HIS G31 Desktop Motherboard Repaired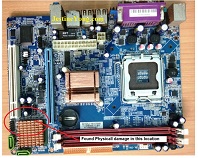 From the technical guy I received Desktop PC Motherboard for not working problem. (As I said in previous article on Motherboard repair if you are not familiar with working principle of the Motherboard, just follow the process of fault finding which is helpful for any circuit troubleshooting). On regular visual inspection I found there is no Burning marks & Physical Damage.

As you can see this board looks clean no dust on it. It indicates someone has already tried to awakening the board. So in general testing Process; I checked for standby Voltage 5v on purple Wire. It shows reading 5v that means standby Circuit is Ok, I tried to start the board by shorting POWER_SW on Motherboard but it does not trigger.
Now tested voltage on Power Switch pin it shows 3.3v it is ok for triggering. But it is unable to trigger in this case. Now I have doubt on VRM Section so removed 4pin ATX Cable from motherboard & tried to trigger; still same problem because some time shorting in VRM section is also cause Motherboard not to work.
We have to check it with 24pin ATX connector still connected on the Board; remove 4 Pin ATX 12v CPU Supply connector from the socket and power ON and try to trigger the switch. Here is Front panel connector connection Diagram. We use to short power switch for trigger.

But all above procedure are fail to trigger. Now I have to start this motherboard by bypassing triggering process to find out some overheating component because of shorting. For this process on 24 Pin ATX Connector we have to keep shorting Green wire pin and –ve Black wire using tweezer.

This will start motherboard force fully. (Not advisable as permanent solution this will burn out the circuit if some component is shorting internally). After motherboard starts check fast all the components for overheating by touching. But in this case I didn't find any overheating. Also checked all voltages stage wise all voltages are in normal range. So where is the problem?????
Now again I focused on the Front panel Connector. After powering the board I started to check Voltage on the all the respected pins like for Power LED checked +ve voltage with respected Ground all Ok except triggering pin.
Power Switch trigger pin showing 3.3v with respect to chassis Ground of output ports like VGA, Serial ,USB Connector Metal Body (Normally we take this chassis Ground reference for voltage testing or for short to ground finding from this ports connectors).But it is Not showing Voltage with respected ground Pin (One beside the +ve Pin of the POWER_SW). Checked for continuity of this pin to connector Ground it is not showing continuity.
(Note: This power trigger switch is working on Logical Ground Principle because "it is not connected directly to the Power source" it is connected to controller IC which sensing commands in High & Low signal. When we press this switch 3.3v (High signal)Trigger Voltage becomes 0v (Low Signal) because Controller IC designed that way & when it Senses of Low signal it send command to power supply via PS_ON Green wire on ATX Connector to release rest of the voltages to the motherboard. This mode of working is applicable to all power supply designed for Standby feature.)
That means something is wrong with this pin to ground. Traced surrounding all grounding pins showing proper ground with their respected pins.
In this type of multilayer PCB you can't trace the connection because some traces passes beneath the component. Now I took magnifier to find out some trace damage………… (It is impossible to trace this problem without Magnifier). Under the magnifier I found scratch & dislocate the SMD capacitor from its location.

If you don't have Magnifier Glass you cannot repair this type of Boards.

For thoroughly tracing and doing some work on this type fault. We must have HD Microscope but unfortunately I do not have one. I tried to put this capacitor back using Hot air Station because this is very tight location & can't use the soldering iron on this place…..as soon as I faced Hot air throttle handle towards this capacitor this capacitor is flown out because of air flow bouncing back from the Heatsink of nearby IO Chip called a South bridge.
(We have to do this work by holding Magnifier in one hand. Holding tweezer in another hand for pickup the capacitor and need one more hand for grabbing Hot air station Handle).
Ha ha ha………………….Confused…………….
It is very difficult to workout in tight area where tiny components are very close to each other. Hence it is impossible to repair these microscopic circuits.
Now ……….I am in some another world to get the solution………..suddenly I have an idea. I just picked up the tweezer and triggered the switch by touching nearby Grounding pin of reset switch. Motherboard is triggered this time and starts to work. So I decide to make a jumper to POWER_SW ground to some nearby capacitor ground.


Now final work as decided……

Now tested the motherboard for working & it works neatly without any problem.

This article was prepared for you by Yogesh Panchal who works as a Computer Hardware Engineer in Mumbai India.
P.S- Do you know of any your friends who would benefit from this content that you are reading now? If so, forward this website to your friends or you can invite your friends to subscribe to my newsletter for free in this Link.
Note: You can check his previous repair articles on Creative SBS 370 Speakers Repaired For No Power
Likes
(

63

)
Dislikes
(

1

)