Hisense 50″ Smart TV Struck By Lightning Repaired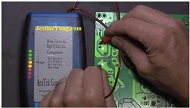 Firstly, let it be said, that as an electronics hobbyist, I am constantly learning, making mistakes, studying, making wrong diagnoses, even having many 'slap the forehead with the palm of the hand' moments and learning by my mistakes. Despite all of that, I thoroughly enjoy the whole experience – especially when you finally end up with a successful repair. I have many of these moments in my chosen trade – automotive, but I have over 41 years in the trade and a fair amount of experience. But when you see success in some area where you don't have formal training, it can be a real 'buzz' to see something turn on and operate after you have had it apart, operating on its heart and soul.
That being said, when I successfully diagnosed and repaired this TV, with direction from Jestine's book 'Testing Electronic Components' & received guidance from Jestine via Email, my confidence jumped ahead in leaps and bounds.
Just having someone confirm what you have been testing and your suspected diagnosis is a great support.
And so, the story begins…….
This Hisense 50" Smart TV had been a victim of a lightning strike. A friend of mine was asked by a customer of his to take it to landfill as he was cleaning the house for renovations. My friend thought of me and I was at the house to pick it up in a flash, bringing my treasure home – much to the disappointment of my wife. 😊
Being a 50" TV, it wouldn't fit in my lab, so testing was done on the dinning table. My wife was suitably impressed – NOT! 😒

This TV had no standby light. Although I couldn't find a service manual, the voltages were written on the power board and testing proved that no voltages were being supplied to the mainboard. Considering this TV had a disagreement with a lightning bolt, I decided to check the protection circuit. Surely, with thousands, possibly millions of volts surging through the TV, I would naturally expect a blown fuse, varistor, thermistor, maybe some diodes and MOSFETS to be a little worse for wear.

However, after checking these components, I was surprised that not even the fuse was blown! Further inspection showed a burnt track on the back of the board.

After cleaning up the burnt area, I made several incorrect conclusions. I naturally assumed that the inductor on the other side would be burnt out. Secondly, I thought that perhaps after bypassing this damaged track the TV might actually work! Wrong on both counts!
It is possible that this area became the weakest link during the high voltage surge & acted as a 'spark gap'.

A wire created a bypass for the burnt-out track. Although I had tested the inductor with a multimeter, this was not the best method. So, using my Blue Ring Tester proved that the inductor was in good condition.

After this repair and test, I now had 340 volts at my main filter capacitors – that was good news!

Further inspection showed one of the two optocouplers to be shorted on the Infrared side and open on the photo transistor side. However, even with the optocoupler removed, there was still a short on the board. At first, I suspected a SMD capacitor to be faulty, but after further testing, it was found to be within specifications. Lifting one leg of the capacitor still resulted in a short in this circuit. After carefully examining the schematic, I decided to remove the IC, a NCP1271 Standby PWM Controller, to see if this had an internal short.


Success! The short had disappeared! This was evidence that the IC had shorted and damaged the optocoupler.
I have been replacing ICs for a while now, with varying success. But as they say, practice makes perfect (or workable at least..). I am currently working on a circuit tester IC with 64 legs and that has taken some patience! I also have had a digital microscope for a while but have generally used my magnifying glass light to do repairs. This time, I decided to use the microscope for this repair. It helped me make sure that I had the IC aligned and no solder bridges existed. Also, the optocoupler was replaced and all flux residue was removed. Testing the circuit again showed the short had been removed.


Now I could see a standby light when the power button was turned on.

The previously damaged TV now had all the features working. I'm sure we have all experienced the 'buzz' when you have repaired something you would normally consider out of your skill range. As a hobbyist, when I am able to bring a complex repair back to life, it gives me a boost to take on the next challenge.
Not only was this TV saved from landfill, but I was able to sell it quite easily. I would personally like to thank Jestine for his book, his guidance and web page where we can share our repairs, experiences and gain help when needed.
If you are interested in this repair, you can see a video on my channel following the link below:

This article was prepared for you by Mark Rabone from Australia.
Please give a support by clicking on the social buttons below. Your feedback on the post is welcome. Please leave it in the comments.
P.S- Do you know of any your friends who would benefit from this content that you are reading now? If so, forward this website to your friends or you can invite your friends to subscribe to my newsletter for free in this Link.
Note: You can check out his previous repair article below:
https://jestineyong.com/shark-upright-vacuum-cleaner-repaired/
Likes
(

93

)
Dislikes
(

2

)