An easy repair to a stuck satellite receiver. Model: Homecast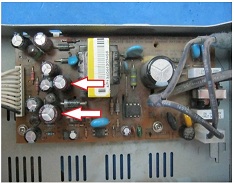 This month is crazy month due to the world cup in Brazil and because of that I was getting a lot of satellite receivers for repair. This one comes on but it gets stuck on 0 channels. Check out the photo.

I tried to change the channel by using the remote control and using the channel button on the front panel but it was no use. I tried to reset the receiver but shutting it off completely by unplugging it from the main power.
All these attempts were met with failure. The receiver was still stuck on 0 channels.

This is the inside of the receiver and as you can see, it was not that complicated. The problem I was dealing was is complicated but I have seen this kind of problem before. At that time, it took me about an hour or so to get it repaired. This repair should take me about five minutes and not more. Check it out.
When I checked the voltage reading at the output on the power side, I was getting strange reading.  The 12 volts, I was getting 24 instead. The 24 I was getting 42 volts. When I unplug the power socket I get normal reading. This proves that something is wrong in the power supply area.

 Since I have seen this kind of problem before, I went directly to the cause of the problem, the two capacitors that you see marked with arrows. They are 1000uf/16 volts. If you have an ESR meter, which I encourage every repair technician to get because it would save you time and effort, you should go ahead and check all the capacitors on that board till you find the bad ones. I have done it before and now, I am saving time and effort.
As a repair technician, the capacitors would be the last thing to think about in this case. The hot IC in the main board was the actual thing that leads me to think of a power board problem.

 Once I replaced these two capacitors, the satellite receiver came back to life. Check it out.

As you can see, the 0 is gone and I now, I am able to switch channels and enjoy some football games on it. Mission Accomplished.

This article was prepared for you by Waleed Rishmawi, one of our 'Master Authors' and currently working in the Bethlehem area of Palestine repairing electrical and electronic equipment.
Please give a support by clicking  on the social buttons below. Your feedback on the post is welcome. Please leave it in the comments.
P.S- Do you know of any your friends who would benefit from this content that you are reading now? If so, forward this website to your friends or you can invite your friends to subscribe to my newsletter for free in this Link.
Likes
(

180

)
Dislikes
(

1

)