HOT Steam Vaporizer Repaired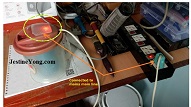 Symptom: Not working.

When we plug the unit on the power there is no Light Indicator glowing and unit is not getting hot. Further inspection opened the unit no physical damage found in the unit.


So for no power symptom we have to first check the power cord. While testing the continuity with help of Multimeter I found both the wires shows open circuit. But when checked ac signal with contact less line tester it shows continuity of both the wires……how it is possible????
I removed the plug from mains and I found ….Melted Plastic on corner of the pins.

Grabbing pin with the hand I just pull the pin & pin is in my hand….

That is why contact less line tester showing continuity because broken wire get in touch to the pin intermittently when wire having load while connected to mains socket.
Now time to replace the two pin plug. Arranged one from my junk box and replaced the same.

And connected to the mains Socket

Now vaporizer start working and getting hot…..

This article was prepared for you by Yogesh Panchal who works as a Computer Hardware Engineer in Mumbai India.
P.S- Do you know of any your friends who would benefit from this content that you are reading now? If so, forward this website to your friends or you can invite your friends to subscribe to my newsletter for free in this Link.
Note: You can check his previous repair articles in the link below:
https://jestineyong.com/tip-for-triggering-any-laptop-to-switch-it-on/
Likes
(

48

)
Dislikes
(

0

)