Hotpoint Subwoofer No Power Problem Repaired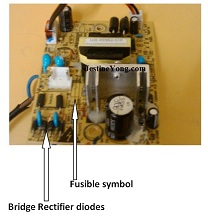 My friend gave this subwoofer saying there is no any indication of life when he connects it to the power source. The problem started when the power resumed after a power failure. He said he did not switch it off during the power failure.
When I opened I found only two printed circuit boards (PCB): Power board and the amplifier circuit board as shown below,
I measured the continuity of the power cable. It was very okay. Then I shifted my concentration towards the power circuit board because the symptom was no power. There was no any visible symptom of component failure. My aim was to see the fuse if it was intact. I could not see the ordinary fuse on the Power board.
Using my Digital Multimeter I started diagnosing the components on the power board. The inductors, the bridge rectifier (all the four diodes) and the Metal Oxide Varistors (MOV) tested well. There was one resistor I expected to have a low ohmic value which gave me infinity on my meter. See the image below.

The colour coding was orange, orange, silver and gold. I expected it to be 0.33 Ohms 5% resistor.
To my surprise it gave me infinity. Surely it was open. That's when I realized that this Switch Mode Power Supply used a low Ohm resistor as a fuse (Fusible Resistor).

When I de – soldered it out I saw a marking on the circuit board showing a symbol of a fuse. Before I replaced it I connected a series 100 Watts bulb where the fusible resistor was. 

I powered the power supply and the bulb did not glow. Good sign!

 Once i soldered a new 0.33 Ohm 5% resistor the radio got back to life. Glory to God!

Luciano Francisco Thomas Khware (Malawian) studied Electrical and Electronics at Comboni Technical College and at Polytechnic (University of Malawi). Currently, he is a student at Tangaza University in Nairobi Kenya.
Please give a support by clicking  on the social buttons below. Your feedback on the post is welcome. Please leave it in the comments. By the way if you have any good repair article that you want me to publish in this blog please do contact me HERE.
By the way you can check out his previous article below:
Likes
(

203

)
Dislikes
(

0

)