How To Easily Locate The Different Speed Wires of Fan Motor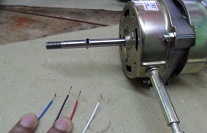 The complaint of this stand fan was not working even though the switch already turned On.
From my experience, this kind of problem is usually due to bad motor.  I had to open the fan cover in order to confirm the problem.

The fan motor was checked and found that the coil was burnt.

I managed to get a new fan motor from local market.

The problem now is how do we know which color wires is for speed 1, speed 2 and speed 3?

Usually the black wire is the common wire and we need this black wire as a reference to find out the different speed in term of Ohm value.

If you are using a manual digital multimeter, set your meter to 2 K ohm. If you are using an auto range digital multimeter, just read from the meter LCD screen the Ohm value. Place the black probe to black wire and the red probe to blue wire. The result was 769 Ohm-see the photo below:

Next, place the black probe to black wire and red probe to white wire and I got 656 Ohm.

Lastly place the black probe to black wire and the red probe to red wire and I got 542 Ohm.


According to the Motor theory, lower Ohm value of the motor will increase the speed (speed 3) and higher the Ohm value will decrease the speed (speed 1). After that I soldered all the three wires to the switch board accordingly-see the photo below:

I hope this article will help you to locate fast the different speed wires of fan motor. Thanks.

This article was prepared for you by Suranga Bandara who owns an Electronics shop in Anuradapura, Sri Lanka.
Please give a support by clicking on the social buttons below. Your feedback on the post is welcome. Please leave it in the comments. If you have electronic repair articles to share with us, please contact us HERE.
P.S-  If you enjoyed reading this, click here to subscribe to my blog (free subscription). That way, you'll never miss a post. You can also forward this website link to your friends and colleagues-thanks!
Note: You may check out his previous repair article in the below link:
https://www.jestineyong.com/power-fet-and-5-watt-2-2-0hm-wire-wound-resistor-problem/
Likes
(

119

)
Dislikes
(

2

)