How To Fix Active Speaker- No Power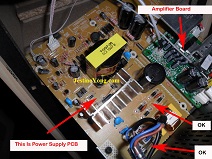 This nice designed Polytron active speaker came in with the complaint of no power and my customer wants me to fix it for him.
The first thing I do was to test it first before opening the cover. Yes, it was indeed no power and I had to open the cover to repair it.

Once the cover was removed, I could see the power supply and the amplifier circuit board. The main fuse did not blow so this means usually the bride diodes were also good.


I proceeded to perform the on board voltage test at the power supply output pins. The power was turned On and I placed my meter's red probe to the output pin and the black probe to cold ground. The voltage reading that I'd got was fluctuating. Even pulling out the white cable from the connector, the result were still the same (fluctuating voltage went up and down).

I knew it was the power supply (SMPS) fault but I just could not find any bad components in the primary and secondary side. The only components left to check were the 2 pieces Optoisolator IC and the TL431 IC.

These ICs can actually breakdown when under load so checking them with an Ohmmeter will not guarantee that they are good. The best is to replace them and retest.

I replaced the three ICs and to my surprise the power actually came back- see the photo below:

If  you want to learn how to be good in switch mode power supply repair you can check out Jestine Yong's SMPS repair ebook HERE. 

This article was prepared for you by Suranga Bandara who owns an Electronics repair shop in Anuradapura, Sri Lanka.
Please give a support by clicking on the social buttons below. Your feedback on the post is welcome. Please leave it in the comments. If you have electronic repair articles to share with us, please contact us HERE.
P.S-  If you enjoyed reading this, click here to subscribe to my blog (free subscription). That way, you'll never miss a post. You can also forward this website link to your friends and colleagues-thanks!
Note: You may check out his previous post about fixing active speaker article in the below link:
https://jestineyong.com/how-to-repair-active-speaker-matsutec-brand/
Likes
(

123

)
Dislikes
(

0

)