How To Fix Old Telephone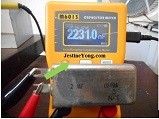 Yesterday afternoon I was talking to a friend of mine by the telephone I use in my house and suddenly the line died, I did not worry about this situation. But my wife was talking at night and the situation was repeated sometimes.
In the photo below I´ll show the device, but please, look what an old model! I suppose it was manufactured in the 50´s.

It was manufactured by Federal Telephone and Radio Corporation, USA made.

It was disassembled, a piece of cake, only two screws.

Look at the following photos and appreciate what a robust technology!

Wow! This phone has been working for more than 50 years, I remember it when I was a child and I appreciate it as an antique.
First thing done was to test the huge capacitor which was connected to the magnetic bell.

What a surprise! This cap has remained its original value for so long. It´s a reality that the manufacturers built devices for a whole life many years ago. If you wanna see another similar case, please visit the followin url: https://en.wikipedia.org/wiki/Centennial_Light.
I´ll show you the Wiring Diagram which was inside the telephone in the next photos.

So far everything was fine so the other procedure I opted for was to check the continuity, and know what?
The three cables of the receiver were open-circuit, and here was the culprit: if you moved when you were talking one or several of them were interrupted.

One piece of this cable was cut (about 2 inches) and the new tips were re-soldered to their clips again.

The telephone was assembled and put in its place and it went back to life. It´s working fine again.

I recognize it was a simple repair, but I wanted all the readers of Mr. Jestine Yong´s blog and the whole World see this old model which has been working for more than 50 years. I do not know if Federal Telephone and Radio Corporation, from USA still exist. But if they are there, they would be surprised with this great Telephone manufactured by them many years ago.
Mission accomplished.

This article was prepared for you by Humberto Rodriguez, one of our 'Master Authors' from Cuba.
Please give a support by clicking on the social buttons below. Your feedback on the post is welcome. Please leave it in the comments. If you have electronic repair articles to share with us, please contact us HERE.
P.S-  If you enjoyed reading this, click here to subscribe to my blog (free subscription). That way, you'll never miss a post. You can also forward this website link to your friends and colleagues-thanks!
Note: You may check his previous repair article in the below link:
https://jestineyong.com/600-watt-sky-link-power-smps-repaired/
Likes
(

59

)
Dislikes
(

3

)