How To Identify Missing/Hard To See IC Part Number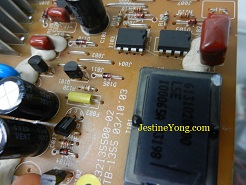 I've got an email about an LCD inverter board that the inverter IC part number was missing/hard to see. Sometimes the part number just faded away (became blur) after a number of years used. I suggested to him 6 ways that he can use to solve the problem.
If you can't see the part number you can:
1) Ask forum members
2) Compare with a similar board
3) Call/email repair friends for help
4) Download the exact schematic diagram
5) Download schematic diagram that has similar model (EX- Equipment (say a TV) with the model of  SB3100 usually have a quite similar design with equipment with model SB3101 and etc).
6) Think of modification of using an external inverter board. This requires more time as you may need to understand all the important signals. This scenario is the same when I came out with an ebook on how to modify a small switch mode power supplies when there was no data or even missing/burnt components in the power supplies.
The above method is not limited only to the inverter ics. In fact you can use the above first 5 ways to identify other type of components part number too. If you have other suggestion I would like to hear from you in the comment section-thanks.

 This article is brought to you by Jestine Yong
Please give a support by clicking on the social buttons below. Your feedback on the post is welcome. Please leave it in the comments. P.S- Do you know of any your friends who would benefit from this content that you are reading now? If so, forward this website to your friends or you can invite your friends to subscribe to my newsletter for free in this Link.
Likes
(

208

)
Dislikes
(

5

)