How To Make Your Own Audio Signal Injector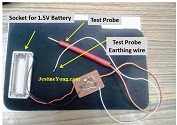 Recently I had some extra time thus I had built one Signal Injector which can make troubleshooting easier for Audio System and Amplifier Devices.
By googling on the net I found one handy circuit diagram which works on 1.5V only.
See the diagram:-

I have arranged required parts from my storage box

And now time for assembling. Components arranged one by one and soldered accordingly, now it is time to cut the PCB to the size.


Now it is time to connect power source hence I have arranged one broken Calculator from my junk box and cut the battery holder from it.

And here is the finished the job:

Now Signal Injector is ready to use. Just add the 1.5V battery and connect the earthing wire to the grounding circuit under test. And start detecting the signals one by one from speakers towards volume control section as you touch the test probe on the components it will gives beep sound from the speaker that means up to that stage everything is OK.

This article was prepared for you by Yogesh Panchal who works as a Computer Hardware Engineer in Mumbai India.
Please give a support by clicking on the social buttons below. Your feedback on the post is welcome. Please leave it in the comments.
P.S- Do you know of any your friends who would benefit from this content that you are reading now? If so, forward this website to your friends or you can invite your friends to subscribe to my newsletter for free in this Link.
Note: You can check his previous repair articles in the link below:
https://jestineyong.com/cctv-power-adapter-repaired/
Likes
(

111

)
Dislikes
(

2

)