How To Make Your Own HDMI Reader Easy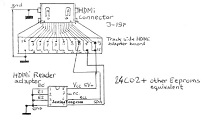 Only my RT809H universal Nand programmer can easily read the eeproms in monitors and television sets through HDMi or VGA connection but my other programmers didn't have that option to read those 'Biosses'. Why I decided to build such an adapter myself.
Also because the few ones that existed if still available were about 49 Euro each, and that seemed a very high price for such a simple device. Just soldering on those 19 tiny HDMi connector pins was no way to do that and I found a good and affordable HDMi adapter board that made creating this tool so much easier. But here first follows the circuit that helps to make all the right connections.

With this circuit reading those 24c02 Bios chips and similar eeproms in our devices is possible without even opening them by just connecting our HDMi cable to our universal programmer and our device. It is tested perfectly working on the TL866 and TL866II, and also on the GQ-4×4 universal programmers.
But no doubt will work on most other programmers too. Next photos show the parts that are needed to make this simple but useful adapter and the links to where they can be ordered.


We just select the right eeprom such as the 24c02 and in just seconds the data is read. Only when we use the GQ-4×4 programmer the chip is situated in the lower pins instead of the top of the socket, why we then need to extend the length of our original HDMi reader adapter so those pins can be inserted into that programmer too.
So HDMi pins 18 + 19 are connected to each other and to pin 8 to provide the Vcc to the chip we want to read. And chip pins 1 to 4 are HDMi ground , and chip pins 5 and 6 are HDMi pins 16 and 15. Keep in mind that you also need to switch on your TV or monitor before reading the chip else it will not work.
About the construction: With 2 of the above shown 2×4 2.54mm pin headers we simply plug-in our HDMi board into an epoxy 2x8cm protoboard with metallized through holes in which I first simply made the 4 connections with 0.2mm thin wire. And then soldered the pins of these female header connectors into. Next follows the result of the finished HDMi adapter reader. But first here also an example of that protoboard I only needed 4 cm in length from.

And the adapter reader was so made that it immediately was clear when the HDMi adapter board was inserted wrong because it then would stick out from the 4 cm long protoboard under it. Here the result.



Next photo shows how this adapter is inserted in the TL866 or the TL866II.

Next screenshots show the result of the read bios of my HDMi connected Samsung monitor.

And below the result when I used my new GQ-4×4 universal programmer.


Above photo showed the two extra 2×4 female header 2.54mm connectors I used to extend my HDMi adapter reader so it also would work in the previously shown GQ-4×4 programmer as the screen copy showed. But in the TL866 or similar programmers, the eeprom normally likely is positioned in top of the programmer test socket and then we won't need to extend the 8 chip pins.
I hope that this article was an interesting read in providing all info for making this HDMi Reader tool for your electronics bench too!
Warning!: Do not try to write to your Bios without the right data in your programmer buffer first, as it most likely will kill the original data in your Bios of your monitor or TV. I know it is possible to delete the original data in your device and afterwards it no longer starts-up, and in such events we are still able to restore the device by using the RT809H Nand programmer. But I've not tested that with this DIY HDMi reader adapter!

Albert van Bemmelen, Weert, The Netherlands
Please give a support by clicking on the social buttons below. Your feedback on the post is welcome. Please leave it in the comments.
P.S- If you enjoyed reading this, click here to subscribe to my blog (free subscription). That way, you'll never miss a post. You can also forward this website link to your friends and colleagues-thanks!
Note: You can read his previous article on Samsung G3 Series 3.5 Inch USB-Sata Adapter Repair
Likes
(

51

)
Dislikes
(

0

)