How To Repair 3 CD Changer That Does Not Play CD's- Model: LG LM-M345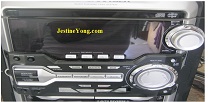 An old man walked to my shop and had a CD player in his hands. He did not know what was wrong with it but he wanted it to be fixed. The moment I powered up the player, the screen came on and I could hear a strange noise coming from inside of it.
He said to fix what possible to be fixed but since no one used tapes any more; I decided to fix the CD player only.

I could see some buttons broken but that is ok; he can use the remote control to access functions on this panel. The customer was ok with that option.
I had to take the two sided plastic covers and then the top one off. The moment I took the top off, I was able to see inside the CD player.

As you can see in the photo, the try was dirty and moist and I could imagine the effect of that dirt on the CD Pick up lens.

I pulled the try out and it came out very easily. It is not always like that but it is an indication of a broken belt that controls the in and out functions.
As you can see the belt was missing and I am sure it was broken as well.

I found the rubber belt broken inside the CD player and I put it back for the photo. That was the noisy sound that I heard before. Motor was running freely.
I found the right size rubber belt put it back on and tested the CD player and just I expected, the CD was not running smoothly and the sound was breaking up. I spread some contact spray on the spinning motor and I did some cleaning on the pickup lens and the CD was once more running smoothly and the sound was great.

Mission Accomplished

This article was prepared for you by Waleed Rishmawi, one of our 'Master Authors' and currently working in the Bethlehem area of Palestine repairing electrical and electronic equipment.
Please give a support by clicking on the social buttons below. Your feedback on the post is welcome. Please leave it in the comments. If you have electronic repair articles to share with us, please contact us HERE.
P.S-  If you enjoyed reading this, click here to subscribe to my blog (free subscription). That way, you'll never miss a post. You can also forward this website link to your friends and colleagues-thanks!
Note: You may check out his previous post in the below link:
https://jestineyong.com/blown-ic-caused-dim-display-in-lcd-mag-700p/
Likes
(

67

)
Dislikes
(

0

)