How To Repair Avvox Mixer Amplifier With No Sound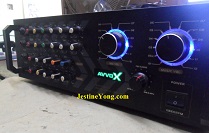 The complaint of this Avvox Mixer Amplifier was no sound even when the Music and Mic volume control were set to almost half-see the photo below:

The first thing I did was to remove the cover and power up the set and check on the Dc supply voltage. There was a 3 pins connector.
First pin is the cold ground, center pin is -12 volt and 3rd pin is + 12 volt. Checking on the +12 volt pin it showed 12.3 volt which mean it was good and within specification.

When I checked on the -12 volt pin, the meter showed only 0.16 volt. This in fact was a good sign because I can start to trace from this pin. It can be circuit track broken, bad component or even shorted component between the -12 volt line to cold ground.

By tracing the -12 volt line, I actually found a 12 volt zener diode that was shorted. This is the reason why I did not get the -12 volt. Further checking on surrounding/corresponding components did not show any other bad components thus I concluded that only the zener diode itself shorted.

Spare parts for zener diode is very easy to get from any electronics shop. The 12 volt zener diode part number is 1N4742- 1 watt

After fixing in the new zener diode the sound came back. Sadly I can't proof to you that the mixer amplifier already working but I hope  you will understand that this is an article and not a video.

All the best!

This article was prepared for you by Suranga Bandara who owns an Electronics repair shop in Anuradapura, Sri Lanka.
Please give a support by clicking on the social buttons below. Your feedback on the post is welcome. Please leave it in the comments. If you have electronic repair articles to share with us, please contact us HERE.
P.S-  If you enjoyed reading this, click here to subscribe to my blog (free subscription). That way, you'll never miss a post. You can also forward this website link to your friends and colleagues-thanks!
Note: You may check out his previous repair article in the below link:
https://jestineyong.com/how-to-repair-led-tv-no-picture-singer-brand/
and related article by Parasuraman:
https://jestineyong.com/rescue-of-a-sound-craft-mixer-epm8/
Likes
(

137

)
Dislikes
(

0

)