How To Repair Charging Problem In Iphone 5s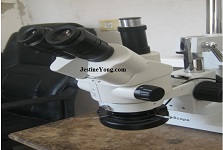 My cousin brought me a white Iphone 5s for repair. It has charging issues.  When fully charged, the percentage of the battery power goes down fast. During charging, the charging percentage does not increase gradually but jumps up really fast. That is an indication of a bad charging integrated circuit.
To get inside the phone, you need to take out two very tiny screws. The screen is pressed on that Iphone housing and with a sharp knife carefully pullout the screen.

Once you get inside the phone you need to get the board and the screen out. Again, these screws are very tiny and different sizes. You need to keep track of these screws otherwise you will end up damaging the board.  Here is my organizing tool.

It is a piece of magnet glued to the table. Every screw that comes out of the board, I put on this magnet sheet in the order of the actual screws hole on the board.

This is the actual board of Iphone 5s. It has very tiny components on it. In order for you to see these components, you need this microscope to actually see the parts and work on it.
This magnifies up to x45 and if you have different lenses on it, it will go up to x70 which becomes an excellent tool for viewing these components and actually fixing them.

I am also using ZXW schematics files that you can get on line and you can actually view the parts on the board and where every component is located. With that tool and my humble experience, I located the bad part and with heat re flow machine I was able to take off the board. Before you get that part, I had to take a heat shield off and then to get to that part.

Once the shield is off, I could see the part and I marked that with a red square as you can see.

It is very tricky to put a new chip there since the IC place is not marked. I have wasted too many IC's just to get it right finally. The part number of this IC is 1610A1. It takes a lot of practice and patients which sometimes I might not have. Anyway, the parts are found on line as well. Every piece cost about 5 dollars each. They are very tiny though. Check out the photo.

There are ten IC's in this strip. That is how tiny they are.
After installing the new chip, put the board back in its housing, the phone came on and worked just fine. I tested the voltage increase and decrease and it was fine.

There are lots of video on YouTube that explain this whole process in more detailed fashion. You can check it out and learn from them if you are interested in such repair.

That is all the parts inside in this phone. Customer happy and mission accomplished.

This article was prepared for you by Waleed Rishmawi, one of our 'Master Authors' and currently working in the Bethlehem area of Palestine repairing electrical and electronic equipment.
Please give a support by clicking on the social buttons below. Your feedback on the post is welcome. Please leave it in the comments. If you have electronic repair articles to share with us, please contact us HERE.
P.S-  If you enjoyed reading this, click here to subscribe to my blog (free subscription). That way, you'll never miss a post. You can also forward this website link to your friends and colleagues-thanks!
Note: You may check out previous post about fixing active speaker in the below link:
https://jestineyong.com/how-to-repair-air-condition-digital-termostat/
Likes
(

100

)
Dislikes
(

0

)