How To Repair Dell Inspiron 15-3552 Laptop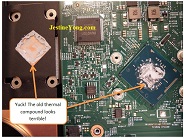 This is a Dell Inspiron 15-3552 laptop that belongs to my sister. She bought it pretty cheap on eBay. The original reason for this repair is that the Power-Adapter Port (hereafter referred to as its acronym, "PAP") hold-down tab was broken and the PAP was flopping around inside of the laptop so that the battery could not be charged.
My sister ordered a new PAP from Amazon. I went ahead and took the laptop apart to check it out. This laptop does not have a cooling fan in it. A lady that I talked to that works for a computer parts supplier here in the USA told me that processors today can withstand more heat and a fan is sometimes not needed. I disagree with that premise – and we will see why later. Here are some photos:




You can see in the above photos that the laptop doesn't have a cooling fan. It has a black plastic spacer attached onto the heat-sink where a fan should go. The first thing I did was to inspect the thermal compound on the processor and heat-sink. It looked terrible as you can see! Someone else must have been into this laptop because I doubt that it came from the factory looking like that.
Anyway, I got them cleaned up and applied some fresh Arctic Silver 5 thermal compound. Sorry, I forgot to take a photo of them with fresh thermal compound.
After I replaced the heat-sink, I had to remove the Motherboard-(MB) to get to the connector for the PAP. I took the antenna cables loose from the Wireless Card-(WC) to remove the MB. As I was taking photos of the WC, I noticed to my horror that the connector posts on the WC broke off and remained inside the antenna cables connectors! I tried to dig the pieces out but it seemed like they were glued or melted into the antenna cables connectors!
That is why I think it is a bad idea to have a laptop that does not contain a cooling fan! Even though processors and IC's may be able to operate under higher temperatures now better than before, the added heat is going to make plastic more brittle. Or maybe whoever had been into this laptop before did something?
So I started looking for parts. While I could get another WC pretty cheap, I could not find a back LCD cover for it, and it has the new antenna cables on it. This laptop uses number PK72X for the back LCD cover. After thinking about it for a while, I decided to try and see if soldering the antenna cables directly to the WC would work. I had my doubts, but decided to give it a shot.
Following are some photos of the old PAP and new PAP, along with my WC endeavor. You can see that the hold-down tab on the old PAP is broken with its tab still under the screw. I guess they were jamming the charge plug in too hard and broke the PAP loose from the hold-down tab. Or maybe the extra heat made it weak?  The new PAP has a longer cable so I taped the extra length of it down with some Kapton tape. The Kapton tape will be able to handle the higher operating temperatures of this fan-less laptop.





In the previous photos above you can see how I soldered the antenna cables onto the WC, after some careful sanding of the surfaces. Then in the photo below you can see that I put hot glue over the solder connections and cables to help give them some strain relief. I should have put some shrink-wrap on the main cable where I cut the insulation back but the hot glue will probably do the job. I looked under the microscope and made sure there were no tiny stray jumpers touching anywhere that they were not supposed to touch.
As you can see in the last photo, it's working! I charged the battery after putting everything back together. Then I started up the laptop, went to YouTube, and the laptop loaded and played a video. It's working great! And the WC in the laptop is working downstairs (downstairs booster is off) while our WiFi router is upstairs!
Since I needed to download and play a video to verify that the WC is working, I went to MiracleMAX which is the channel of our good friend Mark Rabone. He frequently writes good repair articles for us to learn from. Check out his channel.


My sister is very happy that she has her laptop back and even happier that she didn't have to buy more parts for it. As for me, I will not remove tiny antenna cables from now on unless it is absolutely necessary, especially in a laptop that does not benefit from a cooling fan.
I have removed many tiny antenna cables before and this is the first time that I can remember having the connectors break off. It would help if manufacturers would start using good grade polymers also instead of plastic, especially on smaller parts like connectors.
This was another mess that I happily got out of, praise The Lord! But that is ok, it was another learning experience. That is one of the things that I love about electronics repair – I learn something new all the time!
I hope yall enjoyed this article. Keep having fun in Electronics Repair!
As Spock would say – Live long and prosper.

Robert Calk is a hobbyist from the USA who loves Electronics, Leatherworking, and Watchmaking.
Please leave any comments you have below. Thanks.
P.S- Do you know of any your friends who would benefit from this content that you are reading now? If so, forward this website to your friends or you can invite your friends to subscribe to my newsletter for free in this Link.
Please check out his previous repair article below:
https://jestineyong.com/effective-way-to-service-targus-laptop-dual-fan-chill-mat/
Likes
(

76

)
Dislikes
(

1

)