How To Repair Display Problem in Canca TV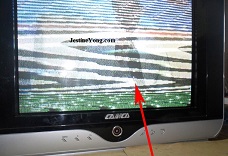 A customer of mine sent in the Canca CRT TV with the complaint of display problem-see the above picture. From the first look it seems that either the horizontal/vertical oscillator circuit/IC was giving problem but I have to confirm the voltages from the power supply are working before do further testing.
Once the cover was removed I scanned through the TV circuit board to see if there is any burnt component, dry joints, loose connection and etc before checking on the power supply output voltages.


From the visual inspection I found a resin dipped ceramic capacitor was cracked and it was located at the B+ circuit line. The value of the capacitor was 471- 2 KV which means it was a 470 nanofarad capacitor with 2000 volt working voltage.

Upon careful inspection on this circuitry, I found that the B+ filter capacitor was also having problem and the value was 100uf with 250 v working voltage.
This capacitor chemical was leaked and dried up and can be seen from the photo below:

I checked further for any bad components around this circuitry but did not find any defective components. I concluded that there were only two bad components and after the replacement, the TV picture came back normally again.



Conclusion- Assuming if I did not find any bad components from visual inspection, I would have to turn the TV on and check on the output voltages of the power supply. If you would like to learn how to repair CRT TV like a professional, you can check out Humprey's Ebook here.

This article was prepared for you by Suranga Bandara who owns an Electronics repair shop in Anuradapura, Sri Lanka.
Please give a support by clicking on the social buttons below. Your feedback on the post is welcome. Please leave it in the comments. If you have electronic repair articles to share with us, please contact us HERE.
P.S-  If you enjoyed reading the above article, click here to subscribe to my blog (free subscription). That way, you'll never miss a post. You can also forward this website link to your friends and colleagues-thanks!
Note: You may check out his previous post in the below links:
https://jestineyong.com/flash-rom-ic-caused-standby-problem-in-led-tv/
http://www.electronicsrepairfaq.com/how-to-repair-no-power-problem-in-cfl-lamp
Likes
(

84

)
Dislikes
(

0

)