How To Repair LED TV Backlight Problem – No Picture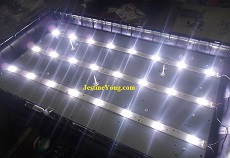 A customer of mine sent to me this BG LED TV with the complaint of have sound but no picture. This kind of problem usually caused by one of the bad backlight LED in the LED bar.
With just one bad LED, the TV will shut down thus no picture can be seen. Once the cover was opened I could see three circuit boards i.e; the power supply board, main board and T-con board see the photo below:

I then performed the dc voltage check on the LED backlight connector and found that the DC voltage came for a while and shut down. This usually indicates the LED backlight have problem. But I have to open the set in order to proof that I'm correct in saying one of the LED backlight could have problem.

When you are removing the LED TV internal parts be extra careful for the Tab bonding. If you break it then the panel can consider useless unless if you know a way to fix it.

Once the all the LEDs are exposed, you can check each of the LEDs with your meter by setting the meter to diode mode. A good LED should light up and the bad one will not light up. See the three photos below:



True enough I found a bad LED. This is the main cause of the TV shut down. Since I have the LED bar and do not have the single LED thus I replaced the whole LED bar and can keep the remaining good  LEDs for future use.

It was a fantastic view when you can see all the LEDs were perfectly lighted.

Once you have confirmed the LEDs were all working fine and no longer shutdown, you can put back all the parts. Connect back the LVDS cables gently to the T-con board as shown below:

The BG LED TV were finally repaired and I was very happy as I could earn some money from this work. If you truly want to venture into LCD or LED TV you can check out on Kent's and Damon's Ebooks. Once you have got their ebooks, you can ask for technical support from them to make you a good LCD/LED TV troubleshooter. All the best to you.


This article was prepared for you by Suranga Bandara who owns an Electronics repair shop in Anuradapura, Sri Lanka.
Please give a support by clicking on the social buttons below. Your feedback on the post is welcome. Please leave it in the comments. If you have electronic repair articles to share with us, please contact us HERE.
P.S-  If you enjoyed reading this, click here to subscribe to my blog (free subscription). That way, you'll never miss a post. You can also forward this website link to your friends and colleagues-thanks!
Note: You may check out previous post about fixing active speaker in the below link:
https://jestineyong.com/no-tuning-in-philips-tv-repaired/
Likes
(

258

)
Dislikes
(

1

)