How To Repair Max 850 SMD Rework Station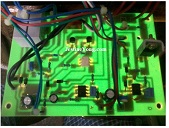 On  routine work at my workshop I found My HOT AIR SMD WORKSTATION having some problem. Air flow is OK But no hot air coming out of Blower.
I switched off the unit and switched on again here I found on varying the air control switch it works fine but on varying Heater control it does not respond.

On normal working heater indicator blinks as you lower or higher the level. but here there is no sign of life. Hence I opened the unit for further diagnosis

So I have removed these two capacitors both the capacitors are out of range. 330uf capacitor shows 80.24uf.

Very fast I have diagnosed the problem and after replacing new capacitors i turned ON the unit but still the same problem.
Now it is time to give more attention on diagnosis so I have checked heater filament with meter it shows 99 OHM that means filament is ok .Then I have checked AC Voltages around 220V AC on Filament here I found that AC Voltage to the filament is missing. (You can skip this test – If Heater LED is not working that means there is missing Voltages from the circuit) So I have traced the circuit backward and reached to another suspect part. That is Triac part no. BTB08 600C this is 8amp 600v Max Pin out I found as follows.

so on testing the voltages on Triac I found 215V AC on middle leg. (It should approx 220VAC on both pin no. 1 & 2) So I have removed the Triac from the circuit and tested with meter it shows it as a resistor.

I have replaced the Triac with another value because I do not have same part with me. bad one is of 8amp And replaced with 12amp.

Now I have turned ON the unit again the same fault. Now I have started to trace and test the circuit and components. For tracing the circuit I used old method which works well in single layer PCB. By putting light under the PCB you can see traces from beneath as well connected components from the top.

While testing surrounding components, on testing voltages I found the both the IC NE555N are missing. Working voltages on pin No.8 which is VCC Pin (5 to 18V DC).
(Advice to newcomers please makes practice of Testing Voltages on the circuit for any Electronics troubleshooting you will save your precious TIME).

Now on tracing the circuit I found one Zener diode located exactly beside the Capacitor which I have replaced before.
On testing voltage I found it does not show any voltage hence checked this diode with multimeter on diode test mode on the circuit it shows Ok but for my satisfaction I have removed the Zener and again when I checked with the meter look whit I found. Meter showed Reading on both the side

This is Indication of leaky Bad Diode

So I decide to turn ON the Unit without Zener diode for a moment and see the result. So I turned ON Unit without Zener and instantly I got the Heater LED Indicator light up and started to blink and checked Air flow through the handle I found hot air is blowing through.

So I have replaced the diode it shows Value 4746 on googled I found this is 18V Diode. I have checked unit for 15 Mints. It works well without any problem.
So these are culprits…..


This article was prepared for you by Yogesh Panchal who works as a Computer Hardware Engineer in Mumbai India.
Please give a support by clicking on the social buttons below. Your feedback on the post is welcome. Please leave it in the comments.
P.S- Do you know of any your friends who would benefit from this content that you are reading now? If so, forward this website to your friends or you can invite your friends to subscribe to my newsletter for free in this Link.
Note: You can check his previous repair articles in the link below:
https://jestineyong.com/pc-speakers-no-sound-repaired/
Likes
(

122

)
Dislikes
(

1

)