How To Repair LG Microwave Oven Not Heating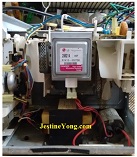 This LG microwave oven MS-1921HE belongs to my cousin, and during our family visit to their home, his wife told me that it was not heating up, though it was getting on and rotating (runs but doesn't heat). So I brought it home to fix it.

As usual, opened the cover and did a thorough cleaning of inside with blower and brush. Some dirt on the caps and in some inaccessible areas was stubborn and inseparable!
Brought it on to my work table and first discharged the high voltage capacitors. Then checked for loose contacts, fuse, door switches, mechanical rotary switches of temperature and power, continuity on primary, secondary of High Power Transformer, and ESR of Capacitors. All were ok. So removed all connectors one by one, cleaned and lubricated and refit these back in its place.

Took the Oven to my kitchen, as I do not have a 15A connection on my bedroom converted workshop. Checked and found that the oven was getting turns on and rotating but won't or doesn't heat up at all. Brought it back to my work table, discharged the caps.
Then removed the connector to the Magnetron and connected a fuse wire across the high voltage connector pins that come out of the secondary of the transformer. (This was an idea given by my techie friends)

Took the oven to Kitchen, connected the mains plug and switched on. The wire got red and blew, indicating that everything was ok until that point, and the problem was indeed in the magnetron.  (Caution: This portion of the output handles around 5000V! So, we need to be extremely careful  in doing all these)  So carried the oven back to my workshop and removed it.

The Model number of this Magnetron is 2M213, and mounting clamps were on the front. We need to buy a replacement matching exactly as per its mounting and high voltage connector. Got 2M214 instead of 2M213 and I learnt from my friends that it was ok. Connected the new magnetron.

Checked all connections once again, carried the oven once again to my kitchen, put some quantity of water in a microwave safe plastic container and switched the oven on. The mechanical switches are manual. The power switch has to be turned to select the desired watts. The timer switch has to be turned to the desired time written on the dial. Then the oven will get on, and the knob of the switch will start retracting to zero slowly, for which there is a spring coil inside like in old time wall clocks.
Same mechanisms can be found in some semi-automatic washing machines also. This switch has also got a bell fit on it, once it reaches 0, and a lever is pushed to sound the bell, like a cycle bell. (Please see the picture above). The oven worked well and the water kept by me for test boiled.

Switched off mains, removed the hot vessel and brought the oven back to my workshop. Put the cover back and did a thorough cabinet cleaning. Look at the oven now to see how it shines like new and ready to cook food again!

Another job completed satisfactorily!

This article was prepared for you by Parasuraman Subramanian from India. He is 66 years old and has more than 30 years' experience in handling antiques equipment Valve Radio, Amps, Reel Tape Recorders and currently studying latest techs classes conduct by Kerala State Electronics Technicians' Association. He was a BBA graduate, retired as MD of a USA company.
Please give a support by clicking  on the social buttons below. Your feedback on the post is welcome. Please leave it in the comments.
P.S-If you enjoyed reading this, click here to subscribe to my blog (free subscription). That way, you'll never miss a post. You can also forward this website link to your friends and colleagues-thanks!
You may check on his previous repair article below:
https://jestineyong.com/crt-tv-repair-flyback-replaced/
You may also check on the article about Microwave Oven repair by Humberto and Sam:
https://jestineyong.com/faulty-big-capacitor-in-microwave-oven/
http://www.repairfaq.org/sam/micfaq.htm
Likes
(

130

)
Dislikes
(

0

)