How To Repair Vertical White Strips On Sony KV 2192M3 TV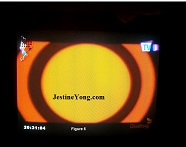 This is an old Sony Trinitron CRT TV (KV 2192M3; Year:1993), but it still works perfect with brilliant picture quality.  However since recently, I saw few vertical white strips (Figure 1 & 2) come from left side of the TV screen and the pictures of that side was shown with low-contrast (see Figure 3)



First try:
I thought this is an issue in the pincushion circuit (with JRC4558). So as the first try,  all the surrounding points were dry-soldered—but the issue was still there. Then JRC4558 and few surrounding electrolytic capacitors were replaced, but the issue remained the same.
Second try:
Then I turned to the Neck-card of the CRT. All the pints were dry sold. Further, all the resisters were checked with a DMM and all the electrolytic and ceramic Caps were tested with my homemade ESR meter. However still I couldn't find the culprit for the issue. Further, all the voltages were OK according to the values of the schematic diagram.
Third try:

Then I changed the plan and check the Schematic of the TV carefully. A list of suspected electrolytic capacitors was taken. Most of them were around the FBT and the PIN-AMP module. Then I removed and check them one-by-one with my ESR meter. Within a few time, I was able to find one electrolytic capacitor ( C854- 330Uf/25V) with strange values- (see Figure 4).

Even though it's a 330UF one,  tester showed 234Uf with 21Ω ESR. It was on the voltage carrying path from FBT to PIN-AMP module. Then it was replaced with a new capacitor, Ho! At last the screen came back again with perfect colors (see figure 5 & 6).



This article was prepared for you by Kushan Ranatunga who works as a Network Engineer in Sri Langka. He has been doing  electronic experiments since age 11.
Please give a support by clicking  on the social buttons below. Your feedback on the post is welcome. Please leave it in the comments.
P.S-  If you enjoyed reading this, click here to subscribe to my blog (free subscription). That way, you'll never miss a post. You can also forward this website link to your friends and colleagues-thanks!
You can also check his previous repair  article in the link below:
https://jestineyong.com/how-to-repair-cfl-bulb-lesson-learnt/
Likes
(

102

)
Dislikes
(

1

)