How To Repair Wax Heater- No Power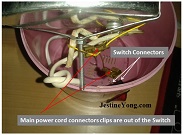 My wife complaint to me that the wax heater can't be powered On.

So I had to open the unit for troubleshooting. On visual inspection I have noticed the main power cable connectors clips were out of the switch.

Hence I connected back the clips on the switch location and powered On the Unit. As soon as I "switched ON" the Unit; there was a big "Bang" noise and my house power main line tripped. My first reaction was to remove the plug from the mains and reset the tripper switch and my house power was back to the normal again.
So what went wrong? Again I started visualize inspection of the unit I found the unit main power plug pins were burnt because of short circuit.

Next, I tested the power cable for the shorting by "multimeter continuity test" but it seems working fine. I then dismantled the whole unit. I tested the heater coil with thermostat in series also OK. Then where is the problem?

I have tested the switch found and it was also ok. Still I am confused because there were no other components to check. I have connected everything back and decided to check the unit Offline (Without Power). When I tested the continuity on mains plug of the unit I am getting full continuity and that was a sign of shorting.
I removed the switch and again tested the continuity on the units main plug and the shorting was gone. When I googled for the switch information, I found that it was not a normal type of switch. It was a Rocker switch and the wiring diagram is as follows:
(I found this link at http://www.learningaboutelectronics.com/Articles/SPST-rocker-switch-wiring.php)

Now I understand that it was my mistake that had caused the loud bang due to wrong connection of the wiring. I reconnected the wiring and reassembled the unit and powered it ON. look what happened:

Unit was working fine because I could feel the heat by  touching on the aluminium tub. The wax heater was back to the life again.

This article was prepared for you by Yogesh Panchal who works as a Computer Hardware Engineer in Mumbai India.
Please give a support by clicking on the social buttons below. Your feedback on the post is welcome. Please leave it in the comments.
P.S- Do you know of any your friends who would benefit from this content that you are reading now? If so, forward this website to your friends or you can invite your friends to subscribe to my newsletter for free in this Link.
Note: You can check his previous article in the link below:
https://jestineyong.com/lcd-monitor-with-hazy-display-repaired/
Likes
(

95

)
Dislikes
(

1

)