How To Test Quartz Crystals Found  In Watches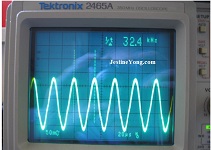 This article will I think be very interesting for those of us who want to test those special tiny common quartz crystals like used in all modern electronic watches and all sorts of timers. Especially if you like me have a couple of them laying around and want to find out if they are still working. And we also find these crystals on all PC mainboards for running the Real Time Clock (on board RTC chip). Most circuits sadly only are able to test the larger quartz crystals without any problem but do not operate on the crystals that are used in modern watches. The oscillating energy coming from these smaller watch crystals is just too little for most circuits to generate a noticeable oscillating sinus signal on the output.

So above on eBay and many other online internet sites sold quartz crystal tester fails to test these special watch crystals. They only are able to test the ordinary bigger crystals up to about 50 MHz. Although nice and not expensive above kit complete with programmed PIC processor, display and plexiglass housing fails for being useful in our case.
Therefore another option would be to use an older used LCD watch that still works and on which we can easily measure on the crystal pins. I did this by connecting 1.5V DC to the watch in next photos and measured with my scope probe directly on one of both crystal pins while it was working. And the ground of my scope pin I just connected to the ground of the 1.5V DC input.
My Tektronix 2465A scope showed a perfectly oscillating quartz crystal with a frequency of 32768 Hz.
So this already looks like a splendid test device for our watch crystals. Still I wanted to test other circuits to see if I could test these crystals in other ways than by using an old digital LCD watch. Also because a watch is very tiny and fragile and not perfectly suited to replace it with other crystals.

Next photo of my scope screen shows a perfectly generating sinus signal.


Previous photo showed how my Tektronix scope probed the oscillating crystal by using a red wire pinned onto the inner quartz pin. To make sure my watch crystal tester also works with other frequencies than the standard 32,768 KHz this old watch as test device could be a problem in case the watch won't oscillate on other frequencies. So I tested a few other circuits on an experimenter's board.

Above circuit was no good and even had trouble with the standard quartz crystals. (I used another BC547 type so that could be the cause of it not working. But they normally have a fT of around 100 MHz so that can't be it).
Next FET circuit on the right worked splendidly with normal crystals but again not with our tiny watch crystals. But at least it worked right away with ordinary crystals.
And maybe next Pierce circuit works like it is used in many microprocessor Xtal oscillating circuits but I didn't try out. Also because I decided to use a watch crystal tester around a good old CD4060 CMOS IC.

The principle of all oscillating circuits is to amplify at least with a factor higher than 1 with positive feedback to the input of our amplifier so that it starts oscillating. If the amplification is less it simply refuses to oscillate. And in our case with the very small quartz crystals the amplification must be able to amplify the very small energy of our crystals to a level that it reaches a stable oscillation. For oscillation following rules apply: when amplification (gain) A = Uout/Uin, and when 1/3 of the output is feedback to the input we need to make sure that 1/3 x A = 1 so that oscillation will start. Or if 1/3 is feedback factor k we need to make sure that 1/k >=A. So in this case A would be at least a gain of 3,333 or higher to compensate for circuit losses and to keep the positive feedback alive. Because the


energy coming of our crystal is so tiny we need an amplifier that compensates this. So the starting amplification will be much higher at the start before a stable oscillation is reached. And in watches this is compensated by a circuit that at the start amplifies the noise that is generated in the tiny crystal before it is a stable sinus oscillation. Previous photo showed a simple and perfect working watch crystal tester on a experimenter's board that can be used with most if not all of those tiny quartz crystals.
It uses a standard CD4060 CMOS IC and the resistors and capacitors are not critical at all! I used a 2.2Mohm plus a 330Kohm resistor, plus two 33pF capacitors on the legs of the quartz under test. But other component values probably will work too. All that is needed is an oscilloscope and a 5V power supply to feed this little tester. All my quartz crystals tested fine with this tester.

And none of those very expensive watch maker's tools I've seen on the internet is able to test only the quartz crystals if removed from their boards. They in general just test the timing of the complete working watches and are not capable of testing the crystals.
Seeing all those very professional priced tools that only the few can afford, I'm sure this handy and easy to built watch quartz crystal test circuit will be a great new tester for expanding our electronic tools shack with. And we never can have enough of these tools for testing purposes!

Albert van Bemmelen, Weert, The Netherlands.
Please give a support by clicking on the social buttons below. Your feedback on the post is welcome. Please leave it in the comments.
P.S- If you enjoyed reading this, click here to subscribe to my blog (free subscription). That way, you'll never miss a post. You can also forward this website link to your friends and colleagues-thanks!
Note: You can read his previous repair article in the below link:
https://jestineyong.com/lenovo-ideapad-330-liquid-damage-repair/
Likes
(

66

)
Dislikes
(

3

)