HP Laptop Charger Adapter Repaired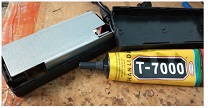 Received HP Laptop charger form my customer complaining adapter is not working.

On usual inspection I found Mains Cord Socket is physically damaged.

So for further repair I have to open the adapter. As I said earlier in my previous articles trick of opening the adapter is simple procedure.
Here I used……Petrol & Needle syringe


Repeat the procedure 3 to 4 times in 3 to 4 minutes' time gap………if you are lucky adapter will pop up by hand only if not just tap on joint of the adapter all the side using hammer. Do not apply force or adapter will get crack.

Removed full circuit for further inspection butt nothing seems damaged inside.
So desoldered remaining pin from the PCB & cleaned residue solder from the place.

Arranged socket from my salvaged material…

Replaced by selecting proper socket……

After replacement of the socket checked output voltage, meter showing 20v… good indication.

Now time to refix the charger's plastic body…. Choice is yours to use super glue / Cable tie /insulation tape or any other options you may have.
I select the glue used for fixing Mobile phone screen which can be removed whenever you want after applying hot air on the joints.

Applied the glue on all side edges of the cover, tightened both the covers using rubber band.

Put a side the adapter for setting the glue till next day……. and next day adapter is ready to use.


This article was prepared for you by Yogesh Panchal who works as a Computer Hardware Engineer in Mumbai India.
P.S- Do you know of any your friends who would benefit from this content that you are reading now? If so, forward this website to your friends or you can invite your friends to subscribe to my newsletter for free in this Link.
Note: You can check his previous repair articles on Electric Air Pump Repaired
Likes
(

65

)
Dislikes
(

0

)