Humax Set Top Box Fault Finding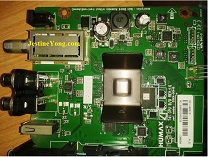 In my busy schedule in my office I got call from my home, my daughter complaining that the Cable TV was not working (summer vacation enjoyment with cartoon Channels). I have guided her some troubleshooting but the straight answer was, there was no power light indication in set top box. So I told her not to turn ON the TV or set top box till I reach home.
On reaching home in the evening I have checked the set top box and it was not working at all. This set top box is manufactured by Humax.

So I have opened the box for troubleshooting. There was no visual burn mark or any other physical damage on circuit board. I have checked power adapter with multimeter and it showed 12 VDC which was good.


Checked power section on PCB and I am not sure which component was this because checked with multimeter it was showing full continuity from both side assuming this is fuse I have moved further I am getting 12V on both the capacitors in  power section that means power section is ok.

Rest of the circuit it is difficult to troubleshoot without proper Circuit diagram. The back side of the circuit board I found some SMD Components. Assuming transistors

On testing with Multimeter I found the entire transistors OK except 2X transistor

So right now I am near suspected faulty area but want to confirm by replacing the transistor if I can arrange form some old junk PCB because buying new one is not worth but to fulfill my curiosity diagnosed till these stage.
Till the repair my children's are not going to wait hence ordered new Set top box because now school summer vacation is near to end.
Now I am looking for Circuit diagram. If anyone has some suggestions please share in the comments.

This article was prepared for you by Yogesh Panchal who works as a Computer Hardware Engineer in Mumbai India.
Please give a support by clicking on the social buttons below. Your feedback on the post is welcome. Please leave it in the comments.
P.S- Do you know of any your friends who would benefit from this content that you are reading now? If so, forward this website to your friends or you can invite your friends to subscribe to my newsletter for free in this Link.
Note: You can check his previous article in the link below:
Likes
(

15

)
Dislikes
(

2

)