IGBT Transistor Shorted In Welding Machine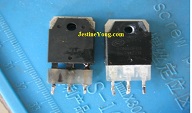 A welding technician brought his dead welding machine for repair. It has been a long time since I repaired such machine because of Covid 19 situation. Not many welding shops are open like they used to and that is really bad.

The screws were already off and that is a clear indication that someone tried to fix the machine.
The customer explained that his brother tried to fix it and that brother has no knowledge of electronics repair and that worried me a bit.

The first thing that I saw was this; it was supposed to be a PTC part there to act like a fuse but instead I found a varistor there. I took that part off and replaced it with the proper PTC and headed directly to the IGBT's on this machine.

As expected, IGBT part was shorted to all three pins which indicates a serious issue in this device. The part number is 60N60FD1. If this one was shorted, I was very sure that the other part similar to this is shorted as well.

And as expected the other part was shorted as well and needed new replacement.

I replaced the first one and the second one but I was still worried to power on the machine. I did further checking around this area but I was lucky not to find any more shorted components.
I powered it on but through a current limiter homemade device and hoped for the best.

As you can see in the photo, the power LED light was on and I was getting DC voltages reading to the positive and the negative terminals of the welding machine.
I was happy to see that and a kind of relief on my part. The customer with his brother came to pick up the machine. The brother had so many questions to ask but I do not think he understood what I saying and that is normal because he does not have any basic knowledge about electronics. Anyways, the machine was up and running and that what counts.
Mission Accomplished.

This article was prepared for you by Waleed Rishmawi, one of our 'Master Authors' and currently working in the Bethlehem area of Palestine repairing electrical and electronic equipment.
P.S- Do you know of any your friends who would benefit from this content that you are reading now? If so, forward this website to your friends or you can invite your friends to subscribe to my newsletter for free in this Link.
Note: You can check his previous repair articles in the link below:
https://jestineyong.com/a-drill-battery-charger-was-powering-on-but-does-not-charge-repaired/
Likes
(

70

)
Dislikes
(

0

)