Interesting Motherboard Repair That You Should Not Miss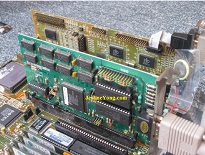 This repair is about my good old 486DX-2 mainboard of which the RTC clock chip goes bad after the internal lithium cell after many years fails to back up the setup settings. And the computer no longer boots. Resulting in a start-up blocking "CMOS Battery LOW" error.
Why I still use my old but trusted 486 PC you may ask? That is because I use external IC testers, GAL-/Eprom-/PAL- & Universal programmers that simply do not work on newer boards anymore.
For one thing because the LPT port on every newer mainboard has changed so that it uses changed internal port addresses and the LPT port no longer is directly controlled by its original port address. Newer boards changed because they now have the option to set it to ECP,EPP,Bi-directional or other settings.
Therefore none of my old LPT controlled devices do work on those mainboards. And the second reason is because newer boards no longer support internal ISA or VLB slot cards. And my Taskit Eprop Eprommer and my ELV IC tester ISA cards do not work on PCI or any newer expansion slot.

Above my first MB1433 mainboard with 486 DX-2 33MHz processor and 4MB RAM with extra mainboard Cache Ram memory. 3x VLB/8-16bit ISA expansion slots, 3x 8-16bit ISA expansion slots and 1x 8 bit ISA expansion slot.
I already must have repaired at least 4 of those 24 pins (not all pins connected!) RTC chip modules by replacing the internal lithium battery. When the integrated 3V lithium is completely discharged after up to 10 years or more, the PC no longer operates and the RTC will need this repair! And setup will give the error message "CMOS BATTERY LOW!" and will not continue its startup. Next photos show
the now empty TH6887A RTC chip top and solder pin view. This RTC chip also exists with other names but same function. And I have not yet had any pin incompatible RTC. Every repaired chip functioned!

Below the saw I used to open the RTC with. First I placed the RTC in a experimenter's board covered with paper to prevent the contacts getting dirty. This way protecting the RTC pins from breaking off while sawing.

Above photo on the right shows that I almost am about to discover the internal now empty 3V lithium cell. Below photo shows the – pole of the empty cell which also is attached to pin 12 of the RTC. I placed the quality (machine-) socket for the RTC module after I had removed the bad module.


After I had removed the useless 3V lithium cell I inserted it in the 24 pins socket and tied it with a tie-wrap to prevent it from coming loose which would render my PC useless if that happened.

The bad removed lithium was a small CR1220 cell. I will replace it by a much larger 3V lithium cell but attached to 2 flexible wires. This way I also keep the height of the RTC chip within its maximum intended space to prevent the chip from blocking the inserted ISA slot cards. Next photo shows the old CR1220 cell. And the next photo the result after I attached it to a new bigger lithium cell.

It now was time to give the 486DX-2 mainboard with the repaired RTC chip a test run. On next photo the setup screen of my fixed mainboard is working again and the "CMOS BATTERY LOW" is gone!


Previous photo shows the mainboard under test with ISA VGA video card and the VLB/ISA 8-16 bit I/O card inserted. After this RTC module repair my good old 486DX-2 66MHz and also my other 486DX-2 33MHz type MB1433 work again like they had worked the past 20 or more years! And they probably will for many more years now.
Next photo my MB1433 DX-2 66MHz computer.

I will show now why I need to keep my trusted PC system in good working order. My not cheap but about 20 year old Xeltek Superpro L universal programmer would be useless without my PC:

My Superpro L or short SP/L is capable to read PAL PLD chips and is also able to write PAL-CE IC's. Which can't be done with most universal programmers today!

The Xeltek SP/L works on the LPT port. Also my perfectly working Elektor GAL programmer (1993) in above photo only works on the LPT port of my good old 486 PC. Following photo shows my Taskit
(published in German C't magazine) Eprop eprommer device that uses its own ISA controller card and therefore works only on my good old 486 computers.


Above my ELV IC tester that also uses an ISA controller card. It is capable in testing TTL/CMOS IC's up to 20 pins. But not existing test algorithms can also be programmed and added to its library of
components. I also have the stand-alone Elektor IC tester (3/'98) and that is sometimes even better than the TL866 because it also tests certain TTL/CMOS types that the TL866 can't.


In recent years I've added a few testers and digital meters to my equipment but since they all are different and none of them is perfect, together they come close!
Next schematic I've drawn after I previously assumed that my mainboard was defect somehow because everything worked but not my 4 external devices.
After replacing the hard disk by a bigger one, replacing the 720KB FDD by a 1.44MB, and replacing the CD-ROM player by a better DVD player it probably was the changed port settings that were wrong. And they only can be changed in some of the programs used. Anyway, my PC works again after I inserted another VLB I/O card and checked and changed the port settings again. Following schematic could be of help if defects are found. I didn't find anything wrong with my mainboard afterwards but made the schematic by measuring on the 74LS244 chip beneath the JETkey 5.0 keyboard BIOS chip .
Nothing can be found on the internet, at least no schematics or user-manual, about this MB1433 mainboard. Which is rather remarkable because these still do work perfectly and were of very good quality! So I hope that this schematic contributes in filling this gap. The controller chips on my mainboard in this article were BIOTEK's 100 pins type 82C3493 and a 208 pins 82C3491. I hope I made no error but if I did please don't hold me accountable for any mistakes made. So please recheck my findings.

*Do not get confused by the A from the ISA bus with the A from the schematic address lines. It was not intended and neither avoidable.
I hope that this article will be of good use to those who also still need to keep these old mainboards for their old but expensive devices up and running!

Albert van Bemmelen, Weert, The Netherlands.
Please give a support by clicking on the social buttons below. Your feedback on the post is welcome. Please leave it in the comments.
P.S- If you enjoyed reading this, click here to subscribe to my blog (free subscription). That way, you'll never miss a post. You can also forward this website link to your friends and colleagues-thanks!
Note: You can read his previous repair article in the below link:
https://jestineyong.com/led-backlight-problem-in-lg-tv-checked-with-led-tv-backlight-tester/
Likes
(

87

)
Dislikes
(

0

)