Inverter Repaired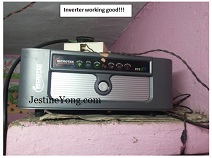 I received a call from my 14 year old daughter that the circuit breaker (CB) in our home had tripped off and the power supply to home is cut off. However the inverter is working and a fan and fluorescent light connected to inverter is working. I asked her to reset the CB and try again. She told me that it does not work and again tripped off. As I was in the office I could not find out what may be the reason for CB tripping and I asked her not to do again till I return to home in the evening.
After I went home I removed the input of Inverter and found that the CB is not tripping and power supply to whole house is restored. So I came to know that the culprit is inverter. After having dinner I settled with my tools to open investigate the reason for failure of Inverter. I opened the inverter and checked the AC input fuse and found it was OK. Then I checked the transformer and found ok.  I connected Inverter to AC 230V supply and immediately observed sparking on PCB and CB tripped off.

I checked the component that was giving spark.  It is a Varistor.  I removed the Varistor and when powered ON the inverter it was working good.
Note: You can temporarily test the inverter without the Varistor just to confirm that the inverter is actually working. If you did not put in the Varistor, the inverter is no longer having protection against excessive transient voltages.

So the reason for CB tripping is due to shorting of Varistor. I replaced with an equivalent Varistor and found the inverter is working and no more tripping of CB.

This article is contributed by Doraiswamy from India. He is an Electrical  Electronics engineer who is a hobbyist in repair of electrical  electronics gadgets. He usually repairs the items that belong to friends and family.
Please give a support by clicking on the social buttons below. Your feedback on the post is welcome. Please leave it in the comments.
P.S- Do you know of any your friends who would benefit from this content that you are reading now? If so, forward this website to your friends or you can invite your friends to subscribe to my newsletter for free in this Link.
Likes
(

238

)
Dislikes
(

4

)