Iphone 5S With A Bulging Battery Replaced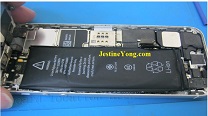 My wife and son went to the States for about a month and while there they both bought new Iphones. She asked me to sell her old one but when I checked it out, it was very clear that has some damage.

The bottom screws were still attached but it seems like the battery bulged up and in the process, it pulled the screen up with it.

I took the two screws holding the screen down and opened the phone but I was careful here because the home button flex cable was still attached to the board.
Once I released that, I was able to put the screen up safely.

I disconnected the battery and headed to disconnect the screen flex cables on the left side of the phone.

As seen in the photo, the battery was damaged and needed a replacement.

I plugged the screen flex cables and then connected the battery; it is very important to disconnect the battery before disconnecting / connecting the screen flex cables
otherwise you will end up shorting and damage components inside the phone like the back light filter and many more.

Mission Accomplished.

This article was prepared for you by Waleed Rishmawi, one of our 'Master Authors' and currently working in the Bethlehem area of Palestine repairing electrical and electronic equipment.
P.S- Do you know of any your friends who would benefit from this content that you are reading now? If so, forward this website to your friends or you can invite your friends to subscribe to my newsletter for free in this Link.
Note: You can check his previous article on Shorted FETs In Dental Equipment Mariotti
Likes
(

40

)
Dislikes
(

0

)