Iphone 6 With Error 53 Repaired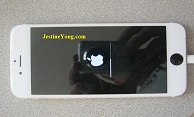 A Computer technician brought me this Iphone 6 for repair. The moment I looked at it, and plugged in my computer, I got a message that says "plug to ITunes". And other thing that I saw on that phone was the home key button.
The phone is white but the home key button was black. That means someone replaced that original home button with a different one. That is a big problem. I will explain more later on.

That is what I saw on the Iphone when I first got it from the customer. The first step in fixing that phone is finding the original home key button but first let me explain what the error 53 is.
Error 53: Iphones come in with a finger print chip sensor on home key button. When buying the phone for the first time, it asks you for your finger print on it so no one can access that phone but you using your finger print. That print and that home key button becomes part of that phone.  Some people they like to look cool and replace the home key button on that phone, or the repair technician failed to transfer that home key button to the new LCD screen ( in case the old LCD screen was broken). It will work fine and should not face any problems with it, until you decide to update the files in your Iphone.  The upgrade on the Iphone will detect any new parts installed on that Iphone and if there are any, it will show you error 53.
This customer was lucky and did not lose the original home key button. He brought it to me but in this case, he will lose all the data on the phone unless he backed up his phone to ITunes. He did not do that, therefore, he will get his phone back just like it came out of factory.

I replaced the home key button, plugged it to ITunes in my laptop and I had to restore it to factory setting. Once I down loaded all the files needed, it started to transfer all that to the Iphone.
It is a very long process. Apple can do that for you even if you do not have the original home key button. It will cost you around 300 dollars or you can go ahead and buy a new Iphone. In the process, if you have not backed up your data, you will lose them all.

Once all the files transferred to the Iphone, it is up and running but factory default so remember, back up your data.

Mission Accomplished

This article was prepared for you by Waleed Rishmawi, one of our 'Master Authors' and currently working in the Bethlehem area of Palestine repairing electrical and electronic equipment.
Please give a support by clicking on the social buttons below. Your feedback on the post is welcome. Please leave it in the comments. If you have electronic repair articles to share with us, please contact us HERE.
Note: You may check out previous post about fixing active speaker in the below link:
https://jestineyong.com/a-water-flow-device-repair-model-matic/
P.S-  If you enjoyed reading this, click here to subscribe to my blog (free subscription). That way, you'll never miss a post. You can also forward this website link to your friends and colleagues-thanks!
Likes
(

87

)
Dislikes
(

2

)