Is HAM Radio a Dead Hobby?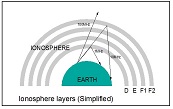 The short answer is no… There are still plenty of people out there, chatting over the short waves, using their own transmitters/receivers and antennas. We will discuss later in this article how you can listen to them, using nothing more than a computer and an Internet connection. You might wonder why this hobby still exists, at a time when you can just click on an icon on your mobile phone or laptop and have a perfectly clear video talk with friends or family at the other end of the world. Well, it boils down to some kind of magic that many people find hard to understand…
I discovered the amateur-radio (HAM Radio) hobby in 1964 during a national exhibition in Switzerland. Those guys had a booth fully equipped as a radio station and were chatting with a friend who was on board of a commercial ship in the middle of the Pacific Ocean. I immediately understood that this was what I wanted to do and joined the club straight away!
Radio amateurs have contributed greatly to the development of radio-communications and to the understanding of radio waves propagation.  All a radio amateur needs to communicate is a transmitter/receiver (transceiver), an antenna and some kind of electrical power (from the mains or generator or battery). No need for Internet, satellites, submarine cables etc… For this reason, the armies in some countries keep standalone short wave radio stations as a backup in case of a conflict that would destroy all the current communications systems. A shortwave radio station can easily be moved around and replicated if destroyed as there is no need for infrastructure. But how does this work?
Radio waves travel in straight line until they encounter an obstacle. Depending on the nature of this obstacle and the wave's frequency they can be absorbed, reflected, scattered refracted or simply go through. The reality is often a combination of those situations.

Given only this, radio waves would not travel very far before hitting obstacles such as buildings, hills and mountains or simply the earth curvature. But, in reality, short waves travel over many thousands of kilometers, how come? Here is where the magic starts!
High above the earth surface, from about 60 km to 1000 km altitude are layers of ionized atmosphere called ionosphere. Ionosphere is created by solar and cosmic radiations. Those radiations dislodge electrons creating ions. And you know it; ions are conductive. When short waves hit the ionosphere they often will be reflected and/or refracted, depending on the density of the ionosphere and on the wave's frequency. They will then return to earth at a greater distance from the source. The ionosphere is represented by 2 to 4 layers at different altitudes. They were named D, E, F1, F2.

The figure above shows 3 situations: a 1MHz wave is reflected at the lower layer, while a 10MHz wave is reflected at higher altitude. Indeed, the higher the frequency, the more piercing the wave is. A 100MHz or higher frequency would simply pass through the ionosphere. There are many other possibilities, for example waves can be channeled between two layers by successive reflections and then come back to earth at very great distances etc…
The density, of the ionosphere layers depends on the day/night situation, on the seasons and on the solar activity. During night time the D layer disappears and the F1 and F2 combine into one thicker F layer only. Yes, radio-amateurs play pinball with the ionosphere!
Worldwide, the International Telecommunication Union (ITU) administers which part of the radio spectrum is reserved for amateur radio transmissions. For each country, amateur radio frequency allocation is done by national telecommunications authorities so there are some differences between countries. A radio operator license is requested to operate a radio amateur station and each country has its own requirements and restrictions. To obtain such a license, candidates have to pass an exam including technical knowledge and… a lot of regulations. In the past some degree of proficiency with the transmission and reception of Morse-Code was included in the exam as well.
Individual amateur stations are free to use any frequency within authorized frequency bands so they can select the best band for each particular kind of contact. The following link shows the frequency bands allocated to radio-amateurs in the US:
http://www.arrl.org/frequency-allocations
As we can see it goes well beyond the 3 to 30MHz short wave band discussed in this article.
Radio clubs and some government institutions also publish propagation calendars, which are approximately as accurate as the weather forecast… As well as we know that it is generally warmer in summer than in winter, it can vary from day to day. It goes the same for the short waves propagation! Both weather and propagation calendars have the same master: the sun!
Amateur radio bands are commonly named as "xx Meters band" e.g. "40 Meters band" or "20 Meters band" etc… this might confuse who is not familiar with the concept. We know the relation between frequency and wavelength as:
Wavelength (λ) = c/f
Where c is the theoretical speed of the light = 300,000 km/s or 300,000,000 m/s
If we express the frequency in MHz we can replace c with 300 so we get rid of all those zeros:
λ = 300/f or f = 300/λ
For example a 40 Meters wavelength corresponds to: 300/40=7.5 MHz good but hold on… the "40 Meters band" goes from 7 to 7.3 MHz. This doesn't even include the 7.5 MHz!
Indeed the "40 Meters" band is just a name; they have taken the closest rounded wavelength to name the band! So it goes for the 20 Meters band 15 Meters band etc…
Originally, amateur radio transmitted their message in telegraphy using the Morse code. In this mode, the transmitter sends a unique frequency called a carrier. This carrier is keyed ON and OFF when the operator works a telegraph key. This efficient mode is called CW (Continuous Wave) as the carrier is of constant frequency and amplitude. CW allows building very simple transmitters and is still used these days. On the receiving side, as a carrier doesn't produce any sound, a Beat Frequency Oscillator (BFO) is tuned to a few hundred Hertz above or below the receiver's intermediate frequency (IF) to produce that beeping sound when the carrier is detected. The CW mode has a huge advantage; it includes a vocabulary of internationally recognized abbreviations, thus allowing people from different languages to communicate. Something similar to the SMS vocabulary the kids are using today! A good operator can decode very weak CW signals in noisy, full of interferences and poor propagations conditions without any decoding device.

To transmit voice or any kind of sound, one of the original methods was to modulate the amplitude of the carrier with the Audio Frequency (AF), a method called Amplitude Modulation (AM). AM is still in use those days, not much by amateur radio but by some commercial stations.
AM is not very efficient as it carries more than the necessary information. To understand this we need to go back to some basics: The figure below shows a carrier modulated by a lower frequency signal (AF). If we call the carrier F1 and the modulating frequency F2 we can see that the peak to peak value of F2 is half of the peak to peak value of F1 for a 100% modulation.

When mixing two frequencies, F1 and F2 the result will be two additional frequencies, F1-F2 and F1+F2. This can be represented on the frequency/amplitude diagram on the next figure:

a) Shows the spectrum of a carrier modulated by a single frequency sine wave, like in the figure before. A single frequency is represented by a vertical line on this kind of diagram. So we will see the carrier F1, F1-F2 and F1+F2.
b) When the carrier is modulated with sound, voice or music, F2 is no longer a single frequency but a spectrum of audio frequencies over a few kHz. It shows on the diagram as two sidebands either sides of the carrier.
c) The great idea was: why do we transmit both bandwidths? They both carry the same information so one of them can be suppressed. And, when we are at it, we can also suppress the carrier. It can easily be reproduced at the receiving end if we need it, as it is just a single frequency signal…
SSB (Single Side Band) was born. Yes it made the transceivers more complicated and tuning a bit more difficult but it ended up to be not only much more efficient but also a mode that is easier to copy when the communication conditions are poor because of interferences and statics.
Now which one of the sidebands to choose? LSB (Lower Side Band) or USB (Upper Side Band), after all they both carry the same information? There is no rule but a kind of convention: below 10 MHz use LSB, above 10 MHz use USB. One of the reasons was that it simplified the design of earlier receivers. But it is free; you can transmit in LSB on the 20 Meters band (>14 MHz) if you wish. The problem would be to find someone to communicate with… as most stick to the convention.
CW and SSB, are the most popular, but not the only modes used by ham radio enthusiasts. There are many more modes like the now popular PSK31, a digital keyboard to keyboard mode. At higher frequencies amateur radio transmit TV signals and all kinds of data transmission modes…
The most critical part of a radio station is the antenna. To be efficient the antenna must be matched to the transmission frequency. The most common types of antennas are the dipole and the vertical: 

The dipole is a symmetrical antenna. In order to connect with a coaxial cable you need to use a balun, which is a symmetrical to asymmetrical transformer. 

The vertical antenna is asymmetrical so it can be connected directly to the coaxial cable.
Now imagine a dipole for the 80 Meters band, tuned to let's say 3.7 MHz. λ=81 m and λ/2=40.5 m. You would need a serious backyard to erect such an antenna! Of course for higher frequencies the antennas become smaller but still. A 20 Meters band dipole still has a length of approximately 10 meters which is big for a small balcony!
There are several other ways to build smaller antennas using tuning circuits and different designs. Actually the imagination is the limit and there are many books with all sorts of exotic inventions. This is a field where ham radio contributed a lot.
If you just want to listen to radio-amateurs you don't need to buy a communication receiver and build a huge antenna. There are many receivers all around the world that can be tuned remotely through Internet, accessible to anyone having a computer and Internet connections. Those receivers called SDR (Software-Defined Radio) are usually situated at very good locations with state of the art antennas. It is just like if you are sitting there, in front of the actual receiver. Almost as good as the real thing but not entirely! The site called www.websdr.org lists over a hundred of those sites. It shows a world map so you can choose the area and pick one of the SDR available in the area. Here is one of my favorite:

It's easy to use. Select the band and the mode and the whole band appears in a display called waterfall. To tune to a station drag the little yellow symbol below the frequency scale. Fine tune with the mouse wheel or using + and – on the frequency pane. The station tuned in the above figure is a CW signal. You can see the dots and dashes… On 7090 is a SSB station, as well as 7150 etc… Don't forget to click on LSB button (for 40 Meters band) to select the correct mode. When selecting a SDR you should consider the local time where the SDR is located (use world clocks) it works better during night time (night there of course!). This is interesting but still not the real thing. It's neither your antenna nor your receiver that you are testing but someone else's. The signals you hear are not received at your location but somewhere else.
Despite some people's pessimistic forecasts Ham radio is on the rise. The number of licenses in the US steadily increased during the past 10 years. We might not hear as many people on the short waves as we used to but there are a lot of activities on higher frequency bands. People are still experimenting antennas, amplifiers, modulators for fun and learning while still helping the development of technology. With today's communications becoming vulnerable, as seen with the recent global Internet hackings, Ham radio still represents a solid backup in emergency cases. Let's not burn all the bridges behind us.

Penang, Malaysia
Gerald Musy
Please give a support by clicking  on the social buttons below. Your feedback on the post is welcome. Please leave it in the comments.
P.S-  If you enjoyed reading this, click here to subscribe to my blog (free subscription). That way, you'll never miss a post. You can also forward this website link to your friends and colleagues-thanks!
You may check out his other article below:
https://jestineyong.com/customer-service-and-infra-red-ir-remote-controller/
Likes
(

89

)
Dislikes
(

2

)