JBL SUB 135 Woofer Speaker Repair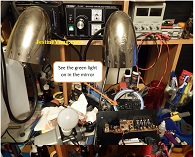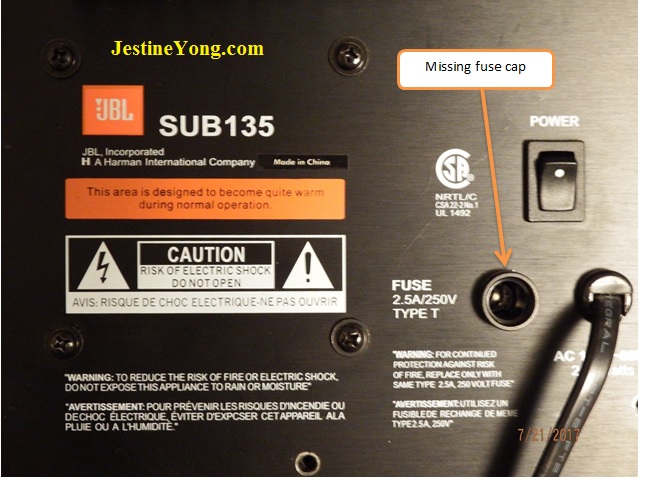 My sister bought this JBL Sub 135 Woofer amp at a garage sale for $20. It was missing the fuse cap so I replaced the fuse holder with a new fuse holder to see if that was all that was wrong with it – it wasn't. After I replaced the fuse holder, I attached my test light to it and powered it up through my Tenma variable Isolation transformer. As you can see in the photo, it has a short somewhere in the power supply. I decided to repair it for her birthday present.
You can tell by looking at the bottom of the darkened PCB that some components shorted. So I decided to pull the main power transistors first and then check the rest of the components. The bridge rectifier, transformer, speaker, and relay checked out fine. The ESR was too high in many e-caps, including the two primary 6800uF e-caps, though none of them were bulged. So I replaced them all.


The Q107 #TIP35C is the NPN, and the Q108 #TIP36C is a PNP transistor. Datasheet is here. I ordered some new ones from AliExpress. I also replaced Q105 #SB649A-PNP and Q106 #SD669A-NPN "Datasheet" with new transistors with the same part numbers when I ordered the power transistors. AliExpress is the only place I could find them. I forgot to take photos of testing them though.

I replaced the dual Op-Amp #NJM4558D with #MC1458P. I checked all of the diodes, zener diodes, resistors, and ceramic caps and replaced the bad parts. All of the diodes were good, but several of the 1/8 watt resistors were bad. Some of the resistors around the main e-caps had crumbling insulation. I guess the glue on the e-caps was eating them up, so I replaced all that were questionable or even had missing color marking.
One of the ceramic caps was shorted. Who knows how much time I could have wasted trying to find the fault had I just assumed all of the ceramic caps were good? I think it's faster to just straight away replace them all. But I was curious about them, and checked them all just to see what I would find. The green 104J Mylar cap C107 needed replaced.
Below is a small photo of me testing a zener diode with my trusty Duoyi DY294 transistor/Insulation tester.  It will test a zener to around 1000 volts.






As you can see in the photos, I got it soldered up and put back together. It is looking good so far. Now I just need to get it back into the cabinet, plug up the woofer speaker, and see how it sounds.

The sub-woofer is now kicking some serious bass! It's time for me to get back to my other articles. I hope you guys enjoyed this one. Below are some extra photos.






Robert Calk is a hobbyist from the USA who loves Electronics, Leatherworking, and Watchmaking
Please give a support by clicking  on the social buttons below. Your feedback or comment on the post is welcome.
P.S- Do you know of any your friends who would benefit from this content that you are reading now? If so, forward this website to your friends or you can invite your friends to subscribe to my newsletter for free in this Link.
Please check out his previous repair article below:
https://jestineyong.com/bulova-accutron-214-part-2/
Likes
(

119

)
Dislikes
(

0

)