Jumping Images And Colours Solved In LG CRT Monitor 500G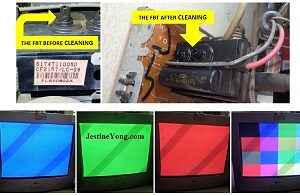 This CRT Monitor belongs to the hospital where I work and was brought with the complaint that either one color like Blue will remain on the screen and/or picture starts jumping. I opened the set and subjected it to thorough cleaning as usual. When I switched on the set, I saw multiple problems as reported with retrace lines appearing and delay in images taking shape with bizarre colors. Everything indicated that the focus/screen control potentiometers are either worn out or dirty inside and when I tried adjusting, the images were doing circus! In the normal circumstances the only solution would be to replace the FBT (LOT). Unfortunately, the replacements are not available in the market and if it all we get it, it won't be genuine. Either it will not work or it will fail soon.
So, what I did was something strange. I kept the monitor on its side, to make the screen/focus control pots to the top and sprayed CRC 2-26 liberally while turning the controls left and right continuously. (Of-course, the Monitor was not powered!) I allowed the spray to penetrate into the controls through the gaps and left it in that position for hours.
Afterwards, when I applied power, the display became normal and adjustments of screen and focus did not cause problems. Well, it was a pleasant surprise! May be the controls could have got only dirty and not worn out! Now, let us take a look at some of the pictures:


The display of the CRT monitor was stable as it stopped jumping and transferred it to me to jump with joy!
Mission accomplished with collection of satisfaction! None noticed when I patted on my back myself! (LOL)

This article was prepared for you by Parasuraman Subramanian from India. He is 72 years old and has more than 30 years' experience in handling antique equipment like Valve Radio, Amps, Reel Tape Recorders and currently studying latest tech-classes conducted by Kerala State Electronics Technicians' Association. He has done graduation in BBA degree, private diploma in Radio Engineering and retired as MD of a USA company. Presently working as Consultant to Hospital and other institutions.
Please give a support by clicking on the social buttons below. Your feedback on the post is welcome. Please leave it in the comments.
P.S-If you enjoyed reading this, click here to subscribe to my blog (free subscription). That way, you'll never miss a post. You can also forward this website link to your friends and colleagues-thanks!
You may check on his previous article on Failed SMPS Revived With Module And Amp Added In PANASONIC DVD Player Model DVD-S2
Likes
(

45

)
Dislikes
(

0

)