K2837 FET shorted in Welding Machine Repaired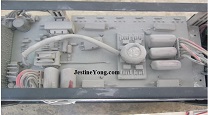 A welding technician brought his welding machine for repair. The guy explained that this machine went dead while he was doing a welding job in a village nearby.

It was no brand welding machine because the cover was off and all I can see was dirt, dust but the PC formation was kind of familiar to me.
I dusted off the machine and headed directly to where the parts are usually failing on this device.

As I was getting ready to do some checking, I saw this damaged area in the power supply of the welding machine. As you can see, one of the main capacitors was just laying there assuming someone was already in this machine.

It was already bulgy and needed replacement.
It was 470uf/450 volts which I have plenty of in my shop.

I took the power board off and soldered a new capacitor on. I did not power on the machine. A damage like that could have caused one or two of the Mosfets to be shorted out or even burnt out.

And as expected, one was shorted out in this high tension area and it had to be replaced. The part number is K2837.

Click on the photo above to access K2837 datasheet
The part was replaced and the machine was tested but sad to say I forgot to take any photo of that. The customer was happy with the outcome because he came and tested it out himself and to that I could say
Mission Accomplished.

This article was prepared for you by Waleed Rishmawi, one of our 'Master Authors' and currently working in the Bethlehem area of Palestine repairing electrical and electronic equipment.
P.S- Do you know of any your friends who would benefit from this content that you are reading now? If so, forward this website to your friends or you can invite your friends to subscribe to my newsletter for free in this Link.
Note: You can check his previous repair articles in the link below:
https://jestineyong.com/an-lcd-tv-keeps-shutting-down-repaired/
Likes
(

53

)
Dislikes
(

0

)