Keenion Headset Repaired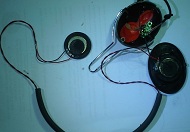 This headset belongs to my brother. We usually use it to listen to the musics. It has been 1.5 years now and we have never had problem with it. The name and model is Keenion KOS-219, the quality is really good and the price just about $3-5. He asks me to repair it today. I don't know the problem yet, he just said the headset didn't function properly. I tried the headset to listen the music and the problem is right speaker don't produce any sound.
It seems like the right speaker's wire getting loose because I could hear some sound coming out from the right speaker when I shake it. Well, I never open the headset like this but the problem didn't looks complicated to troubleshoot so I decided to open it up. I need about 10 minute to make it opened and this is new experience for me.

I can saw the speaker didn't attached properly and one of wire detached, maybe the speaker has dropped by my brother. I test the speaker with my VOM set to continuity mode since the speaker was really rare to defective. The sound is coming out from speaker "krek-krek" and it seems like the speaker still good so the next step is to test the wire.
I know the problem now because one of the wires doesn't have continuity between two speakers. There is nobody sell this wire near my town so I decided just to replace it with another wire. My idea is to attach the wire to saw blade with tape so the wire can pass through the arc shaped plastic, there is an elastic iron inside and I have to get it out first to do this job.

Finally, I succeeded to attach the wire and it's time to test the speaker and thank God I could hear the music again from both speakers and my brother really happy with that. Another equipment saved out of the landfills. Thank you for all of supports from Mr Jestine and readers.


This article is contributed by Rudi Wijaya from North Sumatera Medan (Indonesia). He is an electronics repair hobbyist and specializes in TV, Monitor and DVD repair. He usually repairs the items that belong to friends and family.
Please give a support by clicking  on the social buttons below. Your feedback on the post is welcome. Please leave it in the comments.
P.S- Do you know of any your friends who would benefit from this content that you are reading now? If so, forward this website to your friends or you can invite your friends to subscribe to my newsletter for free in this Link.
Note: You may check out his previous repair article below:
Likes
(

9

)
Dislikes
(

1

)