Laptop LENOVO Repaired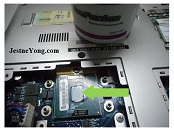 This laptop brand LENOVO Model 3000 C200 was brought to me this weekend by a friend of mine with the complaint it was working with some troubles: freezing constantly and turning off from time to time.

It was disarmed in the bottom step by step:

When the fan was dismantled into pieces look what appeared.

A great amount of dust was seen in shape of lints.
All this stuff was cleaned, including the fan and the surround areas. The RAM Modules were cleaned with a Pencil Eraser.

On the other hand the Microprocessor was covered with Thermal Compound.

As you can see the cooling of this equipment was in a rate of approximately 0%, and with all the actions taken with this equipment, the cooling could be nearby a rate of 100%.
When the device was armed again, and turned it on; it really worked for a long time in the presence of the owner for about 45 minutes perfectly, till we decided to turn it off.

Laptops are compact devices, and when cooling is insufficient the temperature rises up a lot and it creates instability in its behavior.
Conclusion: Remember this kind of device is very compact and needs a Preventive Maintenance like PCs.

This article was prepared for you by Humberto Rodriguez, one of our 'Master Authors' from Cuba.
Please give a support by clicking  on the social buttons below. Your feedback on the post is welcome. Please leave it in the comments.
P.S-  If you enjoyed reading this, click here to subscribe to my blog (free subscription). That way, you'll never miss a post. You can also forward this website link to your friends and colleagues-thanks!
Note: You may check his previous repair article in the below link:
https://www.jestineyong.com/logitech-mouse-repaired/
Likes
(

104

)
Dislikes
(

0

)