LCD Monitor With Hazy Display Repaired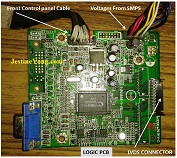 Customer brought to me a Viewsonic VA1703Wb LCD Monitor for repair. The complaint was Hazy Display.
I have connected the monitor on my PC and I switched ON the monitor, display start but screen showing Hazy Display and not be able to read anything on the display. See the photo below:

So I asked the customer if he is not in hurry I will give him quotation by evening. He agreed and left the Monitor for me to diagonse.
Note:If you are not sure about fault symptom do not open the equipment in front of the customer.
After the customer had left, I opened the Monitor for inspection; found very dusty inside.

After cleaning, I removed both the PCB SMPS as well as the Logic Card and started to find if there is any burn mark, dry solder or physical damage but everything seems good. There was no physical damage indication.

Most of the time this type of fault occurring due to either the LOGIC PCB or  the LVDS Cable not inserted properly. The problem  was that I am not having any spare Logic PCB or LVDS Cable with me for troubleshooting, hence taking chance by just clean up LVDS Cable Connector and Logic PCB connectors with IP. Next I put everything back together.


By switching On the Monitor, to my surprise, the Monitor was back to life again-see the photo below:

Conclusion: The display fault was caused by the presence of the heavy dust especially on the connectors. So cleaning the connectors solved the problem. I burn in test this Monitor on my work place for one whole day and  it worked perfectly fine.

This article was prepared for you by Yogesh Panchal who works as a Computer Hardware Engineer in Mumbai India.
Please give a support by clicking on the social buttons below. Your feedback on the post is welcome. Please leave it in the comments.
P.S- Do you know of any your friends who would benefit from this content that you are reading now? If so, forward this website to your friends or you can invite your friends to subscribe to my newsletter for free in this Link.
Note: You can check his previous article in the link below:
https://jestineyong.com/how-to-repair-printer-hp-deskjet-with-horrible-noise/
Likes
(

114

)
Dislikes
(

0

)