Lead-Acid Battery Powered Table Lamp Modified To Use Lithium-ion Battery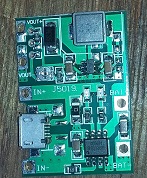 This rechargeable table lamp my family use to light up kitchen whenever there's power failure. It uses lead acid battery for power, which I usually change whenever battery is bad, however because it's fake of same battery that full market now and it's charging circuit does not have anti-over voltage charge, I decided to modify it. I had modified it in the past when the original board got burnt, to charge directly with the use of phone charger, having removed the original board, picture below:

Now I'm using 5v lithium-ion battery module which I purchased from Aliexpress to modify it.

I connected copper wire to all points,
using lithium-ion cell holder case,and then powered it with 5v phone adopter: see results below, if you zoom picture you see charging red led light glowing.

I then glue the new board inside lamp case, then charge it for 1hr 17mins before charging led change to yellow indicating battery is full.
Picture below of finished repaired work.




This article was prepared for you by Imoudu Onwumah from Nigeria. He is 62 years old and has just 3 years experience in electronics repairs. I started career in hotel industry as a chef, but then I was doing repairs only in electrical repairs as a hobbyist. In 2018, I decided to learn about electronics which through Jestine's electronics e-books and holding my hand, am an electronics techie today.
Please give a support by clicking on the social buttons below. Your feedback on the post is welcome. Please leave it in the comments.
P.S- If you enjoyed reading this, click here to subscribe to my blog (free subscription). That way, you'll never miss a post. You can also forward this website link to your friends and colleagues-thanks!
Note: You can read his previous article on Water Standing Fan Power Supply Modified
Likes
(

56

)
Dislikes
(

1

)