LED Backlight Problem In LG TV- Checked With LED TV Backlight Tester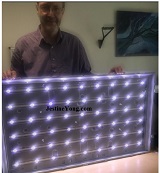 A couple of months ago a friend asked me to help him fixing his second time defect Samsung backlight tv problem. The first time his Samsung was still fixed in Warranty time. The tv was a Samsung European model UE39F5000 or a similar model slightly bigger in that series.
I already had ordered Samsung type 2828/3228/1,5-3Watt backlight leds with internal zener diodes. (3,13 Euro for 100 leds). And those worked also perfectly when tested on my Led backlight tester. Which made testing tv led strips a real easy fun thing. Something that is difficult to do with just your digital meter at diode/beep test. Testing one led is no problem but only if the copper tracks on the strips are visible. But most strips only can be tested at the beginning of the strips where the copper + and – contacts are free. And that can't be done with the low voltage of your DMM.
Lateron I also had ordered other more expensive high power type 1 Watt 3537 Samsung backlight leds. (they were 5,80 Euro for 50 leds). But strange thing was that they seemed to easily short circuit on the >322V DC test voltage coming from my tester. They immediately dimmed into giving no light whatsoever with only showing 0V on the Led tester's display. But after I tested those same leds afterwards on a voltage of 3V they were just working fine! So they internally must be heavily protected against any high overvoltage to save them from fast destruction.
But fixing the backlight of that Samsung tv was put on hold for a later time because my 3 replaced type 2828/3228 leds worked fine on one of his led strips but his original 5 leds on that strip afterwards for no known reason simply had quit working. We had no clue what had happened. And all his led strips had also two zenerdiodes 12V and 24V on the voltage input of which a couple of them were completely blackened after they had collapsed. Something that you do not see anymore on newer tv's.
So when my good friend Chafik recently asked, already months later, to help him fix the backlight of a larger LG 47LA6208 tv, I had my doubts. Next photos show the Led tester I use and the label of the 47 inch LG tv.

Although it was quite easy to disassemble the LG to reach the partly defect strips with 6 x 9 leds, we first do have to remove a lot of screws on the outside. But it really may be a two person's job to prevent breaking the large 47 inch thin glass screen when you want to turn open the screen from the led back panel. Best way is to turn the screen with the glass plate downwards on a big table. Leave the glass plate on the table and then remove the back away with the led panel in it .

And next place the metal backside downwards on the table with the leds inside facing upwards and carefully remove the light filters without getting them dirty onto the glass plate. We therefore first removed the two outside rectangular plastic and the aluminium strips that normally hold plates and screen together. Which we have to remove In order to free the inside metal back panel with the led strips we need to check. We accordingly test each strip with our led tester for bad leds. And if necessary by completely removing bad strips to be able to replace any defect leds with our hot air solder station as was shown on previous photo.
The biggest handicap of fixing the led strips on this LG is here that the strips are made from 2 layer copper strips. Which makes it almost impossible to use the easy 260 degrees Celsius hotplate method. Because the copper makes it almost impossible to provide enough heat this way to reach the solder of the leds on the top layer. That is why we have to use a hot air solder-/desolder station.

We set it to about 290 degrees Celsius which took at least about 30 seconds for the top copper layer to reach the right temperature to be able to remove the bad leds. And we used the same temperature to place leds back with sometimes the help of our solder iron if it was necessary to clean the solder on the copper tracks, or if it helped to better place the new leds.
This can be done by one person but we did the job together. One person held the air gun while the other removed the bad leds from their position on the strips.
Naturally we also need to remove the lenses first, and we have to glue them back on after those bad leds were replaced. Of course we also can just replace all strips by ordering new strips but the repair will cost much more afterwards. 60 Euro for 6 led strips with 9 leds on them is the high price we about have to pay for the complete set for this LG. However that way we can rule out that leds, like after led repair, differ in age and lifespan. Anyhow, replacing leds one by one manually is much
cheaper. Next photos show the tv with the progressing repair of the backlight panel. First photo shows all leds are working perfectly!

Because we use leds that were not specifically for this LG, the solder pads on the leds differed from the copper pads on the strips and we had to shift the new leds a few millimeters to make them work.

I am happy that after our work all leds worked! But look closer and you'll probably notice that one of the lenses is missing. After we took the photo the plastic lens was glued back on. Gluing sometimes simply appears to be more difficult than soldering. If I would have to give this photo a title it could be "Led's work" which I believe almost resembles another famous title of a song from The Stones and Mr.Bowie which was "Let's Work". But it also could be that I become a bit senile at my age (LOL).
Anyway, we are ready to assemble everything back and closed the tv. The last photos show the great result after we connected the HDMi input connector to the output of our laptop.

Let's hope that all backlight leds will survive for a very long time after our repair!


Maybe in the near future fixing and replacing these backlight leds will be less time consuming. Repair wise we may have to admit that those old long lasting HV CFL tubes were not so bad in the recent past as we probably were thinking?
The older led tester I used in this repair in the meantime now also can also be bought with an extra switch to select the led current. I have no idea if you would need that but since that led tester is furthermore identical and just as expensive as the meter without the extra switch, I now would go for the newer model. Anyway, my young friend Chafik can be proud with the repair job done at his ICT shop.
Until another repair!

Albert van Bemmelen, Weert, The Netherlands.
Please give a support by clicking on the social buttons below. Your feedback on the post is welcome. Please leave it in the comments.
P.S- If you enjoyed reading this, click here to subscribe to my blog (free subscription). That way, you'll never miss a post. You can also forward this website link to your friends and colleagues-thanks!
Note: You can read his previous repair article in the below link:
https://jestineyong.com/heater-element-problem-in-s993a-vacuum-desoldering-gun/
Likes
(

107

)
Dislikes
(

1

)