LED Driver Repaired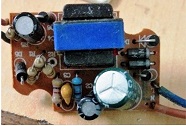 On the way to the home from my office I have got a call from my friend that his LED Light strip was stopped working with some kind of burning smell.so I request him to just handover the burned part to me as I was very tiered and he was convinced and he handed over the burned part to me.

It is LED driver (Power Unit). But there is no burn marks on upper body so smelled the unit I it is confirmed that smell is coming from inside only.so I have opened the unit for further checking.

This is component side and visual there is no burn mark on component side.
I have found burned trace on soldering side i.e. Mains Voltage 230V AC input section.


So now it is time for testing the components off line and find out culprit. Checked components one by one I found two diodes are open circuit.

Checked another components seems to be ok though I expecting some shorted components and suspected the IC but checked IC`S I did not found any shorted pins.
So I have replaced the diodes and soldered Jumper wire on burned trace.

Now for safer side I used series bulb for testing the unit I found positive result and checked out put voltage I am getting 20V DC.

So next day on the way to the my office I have visited my friends home and hand over the unit but as he was scared because of burnout smell he requested me to attached the unit in LED strip & check. So I did the fixing and turned on the supply and I found shine on LED strip as well on the face of my friend.

This article was prepared for you by Yogesh Panchal who works as a Computer Hardware Engineer in Mumbai India.
P.S- Do you know of any your friends who would benefit from this content that you are reading now? If so, forward this website to your friends or you can invite your friends to subscribe to my newsletter for free in this Link.
Note: You can check his previous repair articles in the link below:
http://www.electronicsrepairfaq.com/lenovo-laptop-with-keyboard-key-problem-solved
Likes
(

70

)
Dislikes
(

1

)