LED Rice Light Repaired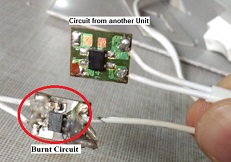 My wife gave me some non-working LED rice light which are used occasionally on some festivals. it was lying since long time & it handed over to me with final ultimatum either get it repair or scrap it.
How can I scrap 100 LEDs ? I took them on my work bench for testing & Connected on my series bulb Board, there is no sign of Light.
So first of all I inspected the wires & Leds for discoloration or broken, everything seems Ok. Next, opened plastic box to see inside.

Found inside Circuit traces burnt, I did not work on this type of unit so far so don't know what components are used.
So I opened another unit of rice light. On another circuit I found only one component.

Checked another circuit part under the microscope it is Bridge Diode part no. MB10F

Checked Diode using Multimeter it shows full short which causes burnt traces.

Checked another Diode Circuit, Diode found Ok so decided to replace this circuit & check, so replaced circuit & powered the light.

& light beautifully light up.
Note: Always use Series Light Test board for testing any type of power supplies.

This article was prepared for you by Yogesh Panchal who works as a Computer Hardware Engineer in Mumbai India.
P.S- Do you know of any your friends who would benefit from this content that you are reading now? If so, forward this website to your friends or you can invite your friends to subscribe to my newsletter for free in this Link.
Note: You can check his previous repair articles on LED Batten Repaired For No Light
Likes
(

46

)
Dislikes
(

0

)