LED Torch Repaired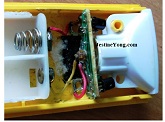 One of my friends given me the torch & told me just see if it is fixable his children's are playing with and they broken it vey badly. I opened the battery and found Battery compartment is total broken even On/Off switch leaf holder plastic support is also broken.

as I seen few plastic parts are also missing. This torch is Opening by sliding top cover in opposite direction so battery room is also not having enough space to do some work.
I told him to just leave the torch I will do something when I am free from my routine schedule. He left the torch with me say after one week I took this torch for repair. Only option is to putt On/Off Switch & Battery holder.

Now for on/off switch, place is very tight to adjust so decide to put the On/Off switch on torch where original sliding black part is located. I drilled hole on slider for fixing On/Off switch from inside.( I tried to put sliding switch butt there is no free place where I can adjust and it will not look proper).

but it didn't worked because of height of this Switch is not allowing to put battery holder properly. So I took another switch with less height. But for this switch installation I have to cut the black slider part in rectangular shape so that this switch will fit properly. So I cut the black slider as per the requirement.
After this modification I tried to fix the battery holder & now it is in perfect shape but I have to cut the edges of the battery holder so that torch slider cover can slide easily.


First I cleaned and removed battery room plastic using hot knife and making room for Battery Holder.
After doing some touch up I done solder connection of the Switch & Battery Holder.

I assembled the torch for testing & result is………..


This article was prepared for you by Yogesh Panchal who works as a Computer Hardware Engineer in Mumbai India.
P.S- Do you know of any your friends who would benefit from this content that you are reading now? If so, forward this website to your friends or you can invite your friends to subscribe to my newsletter for free in this Link.
Note: You can check his previous repair articles on Made UV Lamp for Curing UV Solder Mask
Likes
(

61

)
Dislikes
(

0

)