LED TV Backlight Problem Solved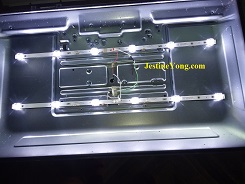 This Combo Led tv was brought to me with complaint of backlight problem. The customer explained that when tv is switch on with remote, tv flashes light for about 2 seconds and goes off and return to standby mode. Also he added that tv was just repaired last two weeks with complaints of backlight problem by another technician and tv just worked for two weeks after the repair. So after verifying this complaints, I remove the back cover, checked the various voltages and the backlight voltage was abnormal.


Then I removed bezel, screen carefully, then the white sheets, down to the Led strips. Seeing the two led strips, it's obvious the technician did a bad job.
Instead of replacing the two strips, he did what I call "join…join" work, see the pictures for yourself and judge.



So I got two replacement strips, fix them and did other connections, pictures below will explain further.


The last tv 'now working' picture is not clear because the channel station was a local station and weather was cloudy than, however when the customer came for the tv, he came with the remote,
I navigate to AV mode and use dvd player to test and picture was very clear but I forgot to take picture then.

The customer was very happy, with promise of bringing his crt tv for repair. This's the finished repaired work.
NOTE: This's my first backlight repair and I was very nervous during this process with prayer to mine God to help me to succeed without breaking the screen and He did helped. Also I want to thank all our colleagues on this blog for all the encouragement and sharing each others experiences from which I leant how to replace tv backlight led strips. Let me not forget our "man of the century" in electronics repairs Mr Jestine Yong who has made this blog available for us all without any financial cost to any of us. May he prosper more in his endeavours, thank you very much sir.

This article was prepared for you by Imoudu Onwumah from Nigeria. He is 62 years old and has just 3 years experience in electronics repairs. I started career in hotel industry as a chef, but then I was doing repairs only in electrical repairs as a hobbyist. In 2018, I decided to learn about electronics which through Jestine's electronics e-books and holding my hand, am an electronics techie today.
Please give a support by clicking on the social buttons below. Your feedback on the post is welcome. Please leave it in the comments.
P.S- If you enjoyed reading this, click here to subscribe to my blog (free subscription). That way, you'll never miss a post. You can also forward this website link to your friends and colleagues-thanks!
Note: You can read his previous article on Samsung Phone Charger Consistently Repaired
Likes
(

64

)
Dislikes
(

1

)