LED TV T-Con Board Problem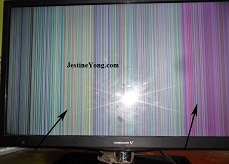 This 32″ Videocon LED TV came in with the complaint of many color vertical lines across the screen. Take a look at the two photos above. This kind of problem can be caused by bad LCD panel or faulty T-con board. In order to confirm that the LCD panel is not the cause of the problem you can actually press on the menu button.
If the OSD menu appeared then you know the problem is not in the LCD panel and T-con board is the cause. From my testing, the faulty part was the T-con board. I took out the T-con board for visual inspection and  found that one of the LVDS connector area had ant's nest-see the second photo below:


What I had done was to clean the board with a brush and sprayed at the connectors with a contact cleaner. Next I reflowed the ICs with a SMD rework station.

The T-con board now is clean and I had to hook it up to check if The TV will get back to normal.

After putting everything back and powered it On, the problem still remained the same-see the photo below:

This means the problem is either due to bad components, Improper DC supply or signals and etc where I need to troubleshoot and find it out. Initial testing of basic components and DC supply voltage were found to be good.
My guess was that one of the main T-con board ICs could have problem. The problem now is that my customer need this TV back urgently and I got no choice other than to buy a new T-con board from Ebay and fixed it-see the photo below:

Once the new board is replaced, the problem was gone and this had proved it was indeed the T-con board was the main culprit. If more time is given to me, I will perform an in-depth checking on this faulty board. I will first target the Main T-con board IC.

Conclusion- All customer are different. Some are very demanding, some friendly and some don't bother to take back their equipment even if the equipment is already been repaired. If you have run this kind of repair business for sometimes I'm sure you would be understood what I'm saying. All the best!

This article was prepared for you by Suranga Bandara who owns an Electronics repair shop in Anuradapura, Sri Lanka.
Please give a support by clicking on the social buttons below. Your feedback on the post is welcome. Please leave it in the comments. If you have electronic repair articles to share with us, please contact us HERE.
P.S-  If you enjoyed reading the above article, click here to subscribe to my blog (free subscription). That way, you'll never miss a post. You can also forward this website link to your friends and colleagues-thanks!
Note: You may check out his previous post in the below links:
https://jestineyong.com/shorted-bu3150bf-and-open-resistors-in-philips-dvd-mini-player/
Likes
(

166

)
Dislikes
(

3

)