Lenovo Adapter Customer Sent It Back To Me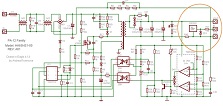 Lenovo Adapter which I have repaired 2 days ago comes back with another problem. Customer stating when he touches back side of the laptop he gets Electric shocks.
Just discussed with the customer for proper earthing in his premises where he uses laptop. He told me that he is having three desktops and two laptops on same location but none of them having this issue. So I request him to send me back the adapter with the laptop. On arrival of laptop and adapter I connected both and powered mains and with line tester I just touched screw side and tester lights up…..

Further I reopened the adapter for testing what is wrong in side I missed something or what??……
On visual inspection I found …..How I skip this point??? Guess what??………There is no Earthing wire connected by the manufacturer on adapter's mains socket side…….


Checked Laptop with another compatible adapter it does not give shock.
That means laptop is ok & confirmed problem with adapter only. Need some Views from your side how to solve this shock problem …………………….
Second thing I found when I am reading reference voltages on adapter it shows

Outer Body of the DC Pin is –ve
Inside Body wall is + 20V & Center Pin is Signal……..

On testing with multimeter I found 10KΩ Reading between Center pin to ground In 65 watt laptop adapter.

Other side On the PCB I found only two wires that is +ve & -ve…no third wire

So I am bit confused from where it gets signal????………….I have measured the center pin voltage it does not show any voltage but it works perfectly on the laptop.
On Google I found in some adapter centre pin and Ground pin both are connected internally using some value resister. I found in dell adapter this center pin wire is connected to one programmable chip on the PCB in the adapter …

Found this dell laptop adapters are having proper three wire connected on the PCB with proper one to one connectivity from PCB to DC PIN.

Here is datasheet link:
https://www.datasheet4u.com/datasheet-pdf/DallasSemiconductor/DS2501/pdf.php?id=551732

This article was prepared for you by Yogesh Panchal who works as a Computer Hardware Engineer in Mumbai India.
P.S- Do you know of any your friends who would benefit from this content that you are reading now? If so, forward this website to your friends or you can invite your friends to subscribe to my newsletter for free in this Link.
Note: You can check his previous repair articles in the link below:
https://jestineyong.com/lenovo-laptop-adapter-repaired-for-not-charging-problem/
Likes
(

52

)
Dislikes
(

0

)