Lenovo All in One Computer Repaired for Not detecting Hard Disk Drive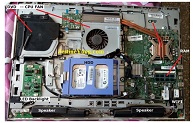 Giving "Missing operating system Error on Boot"

Checked for HDD in BIOS setting it does not show HDD….
For this type of failure- suspected chances of the cause are as follows:
40% cause is due to software corrupt.
30% Hard Disk itself BAD.
20% cause is SATA / Power Cables
& rest is with Motherboard.
For the further diagnosis I have opened the computer……

I have removed HDD for testing whether it works or not (Here I have kept suspected area .i.e. Software related to the last option because customer having some important DATA)…
Removed HDD from casing and connected to another computer via USB Casing. it gets detected and showing the data directory tree intact…….so First doubt I have cleared about Bad HDD. HDD is detecting and working Ok.
Now second suspected area is Cable ….

There are two SATA Connectors one is for HDD and other is For DVD. So I have removed sata cables from the motherboard for inspection.

Here I found HDD SATA cable is ok but Connector was broken on the Motherboard….
I don't want to take risk for repairing motherboard because in this covid lockdown period in our country and availability and arranging of this part is also a question.
So I have convinced the situation to the customer by giving one option that we have to eliminate DVD Drive and use that port for the HDD till the situation is normal again and further we arrange the part accordingly.
And customer agrees………..As per discussion I have made changes (Connected HDD SATA cable on DVD Drive Port) on the motherboard and powered on the system and now HDD is detected and operating system is ready to use.

This article was prepared for you by Yogesh Panchal who works as a Computer Hardware Engineer in Mumbai India.
P.S- Do you know of any your friends who would benefit from this content that you are reading now? If so, forward this website to your friends or you can invite your friends to subscribe to my newsletter for free in this Link.
Note: You can check his previous repair articles in the link below:
https://jestineyong.com/facial-sauna-steamer-repaired/
Likes
(

62

)
Dislikes
(

0

)