Lenovo Laptop Adapter Repaired For Not Charging Problem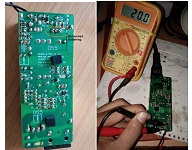 Customer has delivered this laptop charger for repair. Stating problem as above. On arrival I did voltage testing on Dc output Pin it shows 2.3V DC instead of 19V DC. This is not normal reading so I opened the adapter.
I am not sharing the opening process because it was shared in my previous articles because majority on this type of adapters process is same.

Visually Checked Component side of the PCB everything seems to be OK

On Solder side of the PCB I found some Moisture. So I cleaned it with IPA.
further visual checking I used magnifying glass and under the lens I found some dry solder points. On DC O/P Diode.


After retouching the solder I have checked dc output voltage I found 20V as desired voltage.
I reassembled the laptop charger for ready to pick up.

This article was prepared for you by Yogesh Panchal who works as a Computer Hardware Engineer in Mumbai India.
P.S- Do you know of any your friends who would benefit from this content that you are reading now? If so, forward this website to your friends or you can invite your friends to subscribe to my newsletter for free in this Link.
Note: You can check his previous repair articles in the link below:
https://jestineyong.com/tv-set-top-box-repaired/
Likes
(

73

)
Dislikes
(

2

)