LG 14 inch CRT Ultra slim television with shut down symptoms now repaired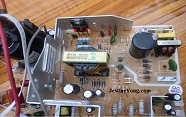 I meet one of my neighbors on my way to work and requested me for assistance on his two TVs which he suspected were hit by high voltage within the estate since they stopped working the same day. So I passed by his place in the evening to collect them, he was not indoors but the wife was around and since she also know me she has no problem letting me go with the television.
Back in my workshop I powered the TV via the series bulb and as you can see the bulb was very bright and even after one minute still the bulb was bright and with that I concluded there must be a shorted component in there, especially on the primary side of the power supply.

Equipment hit be high voltage usually affects the primary components and therefore even before opening I was expecting a easy fix. I opened the set and headed straight to the primary side of the power supply and my first component to test was the switching transistor which usually short when there is power surge.

I pulled my analogue meter and testing across the C-E junction and got high and reversing the meter probe I got low. This is how it should be if it is okay and with that I decided to believe my meter. I tested the primary rectifier diodes and all tested okay.
I then crossed over to the secondary side and tested across the H.O.T transistor and was also found okay. So now I wondered: Was it really power surge or I am dealing with a different animal (problem). So I decided to think outside the box and ruled out power surge problem and decided to do general troubleshooting.
I applied power once again and very keen to see what is happening and to my surprise I noted the screen is coming on briefly and then shutdown. Before shutting down I was able to pick this on the screen, this new observation pointed me to the pincushion circuit and I went there running with a lot hope that I have localized the faulty circuit.

I checked the entire component around that area and all tested okay. With that my stress level increased and I started asking myself questions "where did I go wrong"? By coincidence I powered the TV without the series bulb and I noted the screen was full.
It is now that I came to realize that the voltage drop across the series bulb has effect on this set and that is why the TV screen wide was not full. I also noted this TV was not an original LG, this I noted immediately after opening the set. I noted the board was cheap china board otherwise for branded TVs there should be no effect on the B+ irrespective of the primary voltage since the B+ voltage is highly regulated.

With that I decided to change my hypothesis to shutdown symptoms. Shutdown in CRT television causes varies but the most suspect are power supply problem, B+ voltage very high and hence high HV which can trigger the X-ray circuit to kick and shutdown, secondary filter capacitor ESR gone to the roof and finally, last but the least dry joints on the primary or secondary side can cause this kind of problem.
To trace the cause of this problem I decided to start with my favorite gadget the ESR meter and did ESR test on the few big filter capacitor on the secondary side and all tested good.
Next I decided to solder all dry joint visible in the entire TV not caring where they were; among them I noted this which looked more suspicious in regard to this problem.

All in all I soldered all dry joints and after finishing and I was happy and I decided to dis-connect the B+ line and attach the dummy load (40Watts) across the B+ line and the cold ground.
The dummy bulb came up beautifully and stable, with that I concluded that the primary power is okay…I also tested the B+ voltage and was 110 volts and stable.
With that I decided to remove the dummy bulb and do live test and after re-soldering the resistor which I had soldered out as take off point for B+, applied the power and this is what I saw.

Thanks you guys

Humphrey Kimathi is from Kenya and the author of DVD Player repair guide,CRT Television repair course , CRT Television troubleshooting guide and Basic Electronics course. You may also visit his main website HERE.
Please give a support by clicking  on the social buttons below. Your feedback on the post is welcome. Please leave it in the comments.
P.S-  If you enjoyed reading this, click here to subscribe to my blog (free subscription). That way, you'll never miss a post. You can also forward this website link to your friends and colleagues-thanks!
Note: You may check out his previous repair article below:
https://www.jestineyong.com/dvd-player-dead-now-repaired/
Likes
(

141

)
Dislikes
(

0

)