LG 32″ LED TV No Backlight Repaired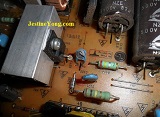 This 32″ LED TV came in with the complaint of no backlight but have sound. The power LED light was also normal. Could see both the power and mainboard once the cover was removed.

If the LED backlight was not On but have good audio this could only suggest either no DC supply voltage going to the LED backlights through the LED output connector, open circuit in the LED driver area or even the entire LEDs have problem (very unlikely).
Below photo is the LED driver circuit and it needs 24 volt in order to function.

But there was no 24 volt output when I checked on the connector that liked up to the main power supply. This is very obvious the problem is in the power supply section.

With visual inspection check on the power supply section found one high voltage capacitor was burned and the outer layer was blown off!

I need to check the corresponding components (photo below) and found the FET that was link to the defective capacitor was shorted.

With the replacement of the FET and the capacitor I got back the 24 volt and to be exact it was 24.5 vdc. Assembled everything and powered On, I could see the display.
See the photos below:


Conclusion- Actually I would use visual inspection first before I start to troubleshoot the circuit board but I need to explain to you first about the important of checking the backlight output voltage which was 24 Vdc (but it was missing in the above case). In the future you should know what to expect from a 32″ LED TV backlight voltage. By the way, if you are an experience repairer and would like to know the problems and solutions of LED TV fast you can check out on Damon's latest PDF list here. His previous 713 PDF list can be found in this link.

This article was prepared for you by Suranga Bandara who owns an Electronics repair shop in Anuradapura, Sri Lanka.
Please give a support by clicking on the social buttons below. Your feedback on the post is welcome. Please leave it in the comments. If you have electronic repair articles to share with us, please contact us HERE.
P.S- If you enjoyed reading the above article, click here to subscribe to my blog (free subscription). That way, you'll never miss a post. You can also forward this website link to your friends and colleagues-thanks!
Note: You may check out his previous post in the below links:
https://jestineyong.com/mbrf10200ct-dual-schottky-diode-shorted-in-led-tv-repaired/
Likes
(

88

)
Dislikes
(

2

)