Here's A Quick Way To Solve Auto Open In DVD Player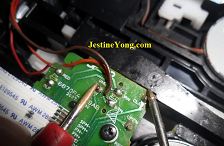 The complaint of this LG DVD player was auto open. It means that the moment you power it up, you can the welcome message "Hello" and then suddenly the tray open by itself even though you did not touch on any of the button. It remained open and cannot be closed. If the problem is open and close by itself chances the EEprom IC need to be reprogrammed. However, in this case, from my experience, it usually due to the On/Off switch problem.
As usual, in order to see the parts inside one has to open the cover and the tray.

Ok now you can see the small circuit board and the switches were located behind the board.

I checked on the close switch and found that it was not off. By right a close switch should show a close contact and not open circuit. I did not replace the switch, instead I service it using a switch cleaner.

After that I retested the switch again using my meter buzzer mode and now I could hear the buzzer sound indicating the close switch is in fact closed.

Now I can insert the disc and closed the tray and the DVD player can play movie. If after servicing the switch and the problem still the same then the only choice you have is to direct replace the switch and retest. By the way it is fun to repair DVD player as compare to other equipment because it is light, small and do not many complicated circuitry. If you want to learn how to repair DVD player the professional way check out Humphrey's ebook HERE.


This article was prepared for you by Suranga Bandara who owns an Electronics shop in Anuradapura, Sri Lanka.
Please give a support by clicking on the social buttons below. Your feedback on the post is welcome. Please leave it in the comments. If you have electronic repair articles to share with us, please contact us HERE.
P.S-  If you enjoyed reading this, click here to subscribe to my blog (free subscription). That way, you'll never miss a post. You can also forward this website link to your friends and colleagues-thanks!
Note: You may check out his previous repair article in the below link:
https://www.jestineyong.com/only-one-diode-shorted-in-led-monitor/
Likes
(

88

)
Dislikes
(

0

)