How To Repair LG LCD Monitor- No Display With Good Power Output Voltage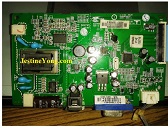 Fault Symptom: No Display With Good Power Output Voltage

Customer walked into my workshop with an LG Flatron W1643c Monitor with above said fault symptom. So I have received the monitor for repair and given token to the customer about estimation period.
In order to confirm the problem I have attached the power cord to the monitor and powered it On. I am not getting any symptom of life, LED power indication was not lighted up. So I opened up the casing and do the visual inspection first on the circuit boards.
This monitor is using external power source working on 12V power adapter. First of all I have checked power adapter for 12V and found OK. Now checked PCB by solder side seems ok no burning mark and no dry solder.

Now I turned the PCB on component side, look what I seen.


There was one Square IC marked with U201 some of the pins look like burnt. So I have checked under magnifier glass and it was not burnt marks but some sticky substance was there.

I cleaned the pins of IC with turpentine and applied some fresh solder. After the cleaning process, now I decided to check the status of monitor by applying power, hence I have connected the power cable and turning on the power.

The LG LCD Monitor came back to life with power LED indicator was glowing.


I found the pin out detail of the IC "NT68167HFG" on the net as follows. Marked with red box pins cause shorting on the logic board.

Note: The power LED signals are coming from this MCU IC so if this IC does not work means the LED would not light up. So you may be thinking it was the fault of the power supply. The best way to confirm is to measure the DC supply input voltage to MCU IC.

This article was prepared for you by Yogesh Panchal who works as a Computer Hardware Engineer in Mumbai India.
Please give a support by clicking on the social buttons below. Your feedback on the post is welcome. Please leave it in the comments.
P.S- Do you know of any your friends who would benefit from this content that you are reading now? If so, forward this website to your friends or you can invite your friends to subscribe to my newsletter for free in this Link.
Note: You can check his previous repair articles on LCD Monitor in the link below:
and you may check out my ebook on LCD/LED Monitor repair:

Likes
(

96

)
Dislikes
(

0

)